Fictionary is a column showcasing beauty-related words that don't exist, but should.
I always say that there are three salient exceptions to the "everything is more expensive  in NYC than anywhere else in the country" rule.  Fresh flowers, cabs (Have you ever gone three blocks in Boston? You'll spend $15) and manicures. Nail salons are on every corner and while the convenience and prices can't be beat (I even have a secret salon that seriously charges $5 for a mani), it's rare to find one that can provide a long-lasting one. And if you're friend is joining you? Forget it, you'll crane your neck to talk to her if you happen to get seated side-by-side and general ambiance will have you dying to leave before your polish is dry. Of course, there are higher end experiences, but the boutique nail salon offerings are surprisingly few and manicures at larger multi-service salons are inconsistent and nail art is not on the menu.
Enter Paintbox Nail Studio, founded by former beauty editor of Cosmopolitan, Self and Fitness magazines, Eleanor Langston. This gal KNOWS from nails and the studio's "French bistro-meets-intimate SoHo fashion boutique" vibe is perfect. Everything about this place is chic, from the navy lacquer tables to the Etsy-sourced jewelry holders to the  banquette seating (so you can mani with a friend without having to strain your neck) to the democratic, yet curated nail polish color selections picked out by Eleanor herself. You'll see the usual suspects like Essie favorites alongside stunners from Tom Ford Beauty and indie gems like Floss Gloss. You can also get a gal mani, as I did (photo, above).
My nail tech, Sonia, created this Chroment for me, which boasts shades of Beyonce's famous metallic Minx manis of yore (2010ish), without the devastating Nair effect on my blow-out. Remember how those stickers would assassinate your strands in minutes and lift off after 24 hours? That was so beta; mani is the 5.0 version of that. Sonia brushed on two coats of gold glitter gel, then painstakingly applied a thin layer of gold foil before following all that up with a couple coats of gel on top. In between layers, I cured under the most elegant, covered LED light I've ever seen. The best part? Your nails are zapped 30 seconds each time, max. Sonia even employed a spoolie brush, used the world over on lashes, to clean up my nails and ensure no particles would rough up my nail game and cleaned the undersides of my nails with it, as well, before applying the gel. You can snag those brushes gratis at any Sephora for your DIY mani projects.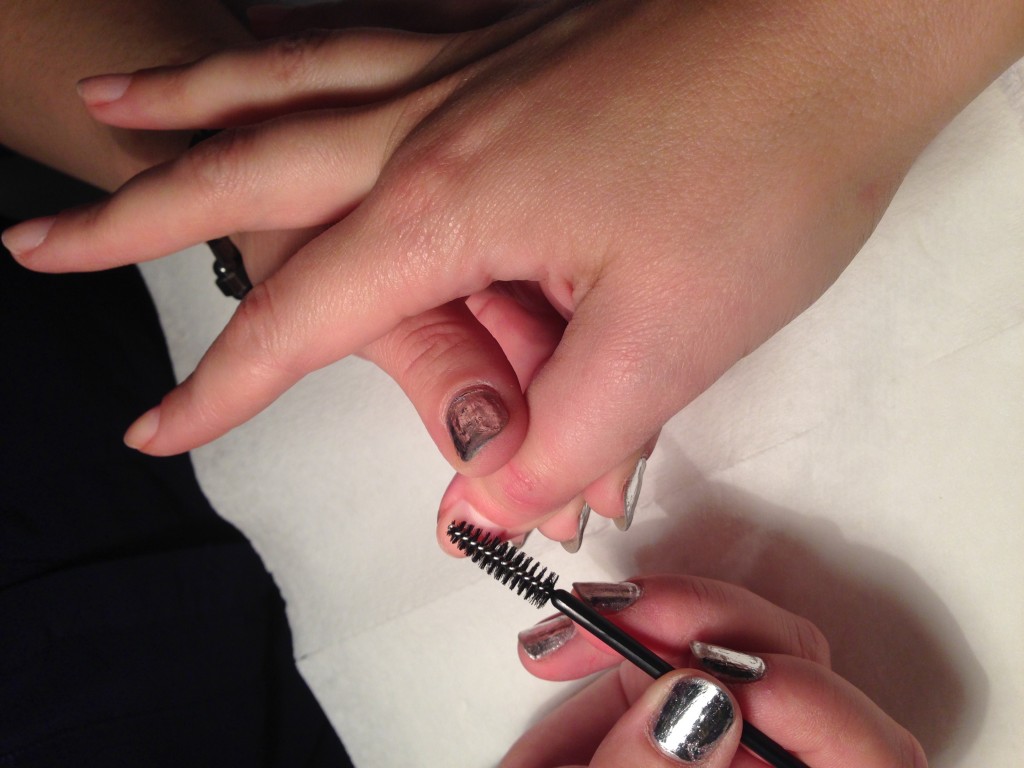 A polish manicure is $35; gel $50. A design manicure will run you $55 if you go the polish route; $65 for a gel. Paintbox Nail Studio is located at 17 Crosby Street in NYC. Book online at paint-box.com/book.