I don't have to tell you to use a beautyblender for your makeup because it's a-bunny-eating-a-carrot obvious (full disclosure: that's a saying I stole from Amber) that you should be using one. But what you probably don't know is that there's a dye-less blender called beautyblender pure that's intended for skincare products.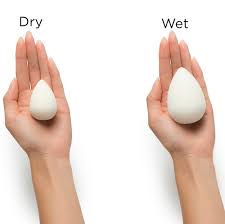 I use mine every single night to apply my
Mario Badescu Special Healing Powder
 because the sponge puff that comes with this powder totally sucks. Which is a shame because the powder is amazing– it helps disinfect and calm acne prone areas and is a must-have for anyone with oily skin.  My aesthetician told me to live in it, so I'm trying to do just that but it's hard to when you're using that lame-o sponge. At one point I even ditched the poof and was using my fingers which, as you can imagine, was a total mess but even THAT was better than the powder pad.
Enter:
beautyblender pure
. Like all beautyblenders, it must be used WET. It will double in size. Squeeze out access water and pat it dry with a towel then pick up your powder (or lotion/ other skincare product) and bounce the product on your face. Easy, perfectly distributed application means that the product will actually sit on your skin and the spots you want to target, rather than getting slapped on and wiped around arbitrarily with your fingers.
Follow Julia on Instagram.