Fictionary is a column showcasing beauty-related words that don't exist, but should. Here's an oldie but goodie!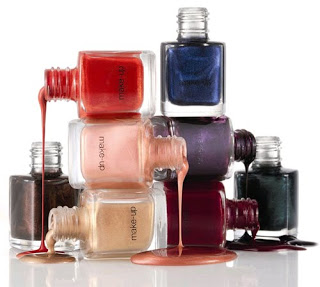 You know. Those annoying nail polish marks your allegedly DRIED (days ago, even!) varnish leaves in its wake on paper. When I freelanced in a paper-heavy mutual-fund office, I was the repeat offender. Though I myself would always think, oh, that wasn't me. And then I remembered I was the only one there who rocked teal polish.
One of my rules I had years ago for returning to my former financial copyediting gig (albeit in a freelance capacity) was that I would be allowed to rock whatever nail accoutreMA (as Jack Rebney so sagely says) I like. One way to avoid this? CND's new polish/gel hybrid, Shellac.
Have you experienced Nail Trail? Am I the only one? SHARE!