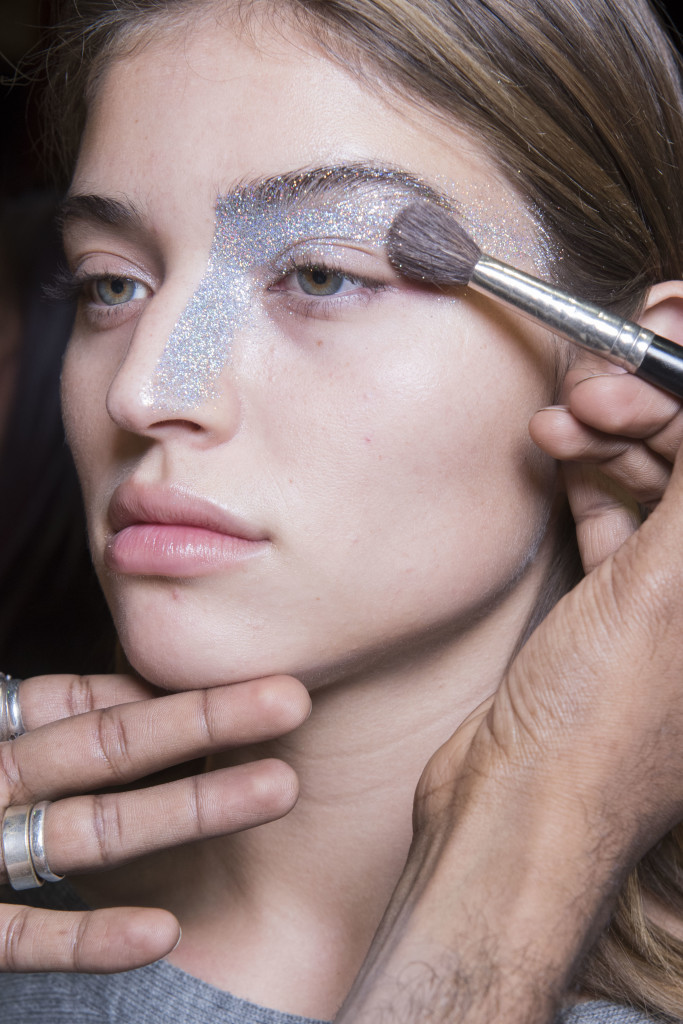 Fictionary is a column showcasing beauty-related words that don't exist, but should.
At Opening Ceremony's Fall/Winter '16 show, makeup artist Yadim referenced artist Syd Mead's futuristic work in Blade Runner and Alien by placing special-effects-like slashes of glitter on an otherwise-clean face. It was all about the idea of a cyborg with metal peeking through the skin. Here's how to get the look.
Yadim first applied a thin layer of Fit Me! Foundation using a makeup brush.
Then, lids got tinted in taupe with Maybelline Brow Drama Pomade Crayon in Blonde, warming the eyes without adding noticeable color. Then lashes were pressed with Expert Tools Eyelash Curler and left free of mascara.
A touch of Baby Lips Lip Balm in Quenched provided moisture and enhanced the natural lip shade, leaving behind a subtle sheen.
For definition, Yadim added Master Strobe Illuminating Face Stick (launching June 2016) to the high points of the face and the inner corners of the eyes. Then, glitter was applied to in unexpected areas of the face (down the side of the nose, across the jawline or at the temples), depending on the models' individual bone structure.
What do you think of this makeup effect?