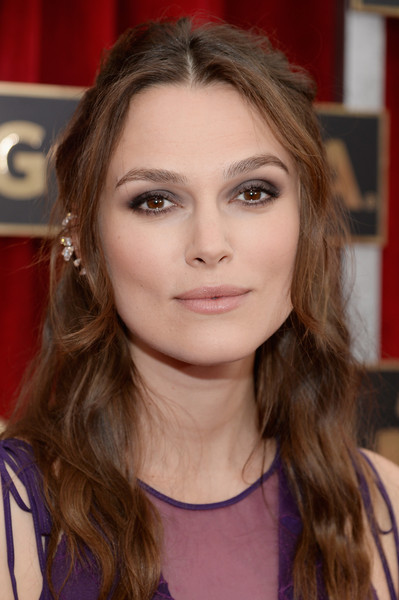 My favorite look of the night(ly) was Keira Knightly's Brigitte Bardot inspired hair and boho-chic makeup. Ben Skervin did the hair honors. Here, he shares the details on how to recreate this style. 
1. First apply Vidal Sassoon Pro Series Boost & Lift Foaming Air Mousse to wet hair for lift, followed by Vidal Sassoon Pro Series Heat Protect & Shine Spray throughout the hair to add shine and a nice finish to the blow dry.
2. Blow-dry the hair with a large round brush, making sure to curl the ends under.
3. Using a large barrel curling iron, wrap 2- square inch sections of hair in a spiral down the curling iron and make sure to leave the ends out. Slide the hair off the iron and pull each section down so it forms a loose wave instead of a curl. Repeat this over the whole head.
4. Once the curled hair has cooled, use your fingers as a comb to break up the waves. Spray Vidal Sassoon Pro Series ColorFinity Dry Shampoo into the roots to give hair a bed-head look, then back-comb the roots of the hair at the crown for lift and volume.
5. Take two small sections of hair on either side of the head by the ears, and pull these back to the middle back of your head. Secure with 3 bobby pins and 2 U-shaped pins, and then pull out some pieces of hair to frame the face for a boho-chic look.
6. To finish, spray hair with Vidal Sassoon Pro Series Flexible Hold Hairspray to keep the look in place. 
What do you think of Keira's hair and makeup at the SAGs?