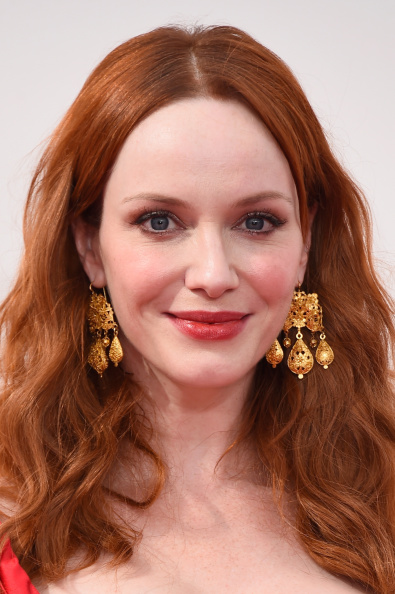 Makeup artist Vanessa Scali is a GENIUS and does things with blush I can barely CONCEIVE of. This time, she created a simple, yet bold makeup look for Christina Hendricks at the Emmys. To pair with her red Marchesa gown and Neil Lane jewelry, Vanessa created a soft golden eye, subtle flushed cheeks (obv) and a stained red lip. Here, the beauty breakdown, courtesy of Vanessa.
"Christina has the most beautiful alabaster skin, so I always use foundation and concealer sparingly on her," says Scali. After prepping her skin, Scali used the Pür Minerals Liquid Veil 4-in-1 Spray Foundation* and Pür Minerals Disappearing Act 4-in-1 Concealer.
Then concentrating on the apples of her cheeks, she used Pür Minerals Cream Blush in Flirt. After a very light powdering in the t-zone with Pür Minerals Balancing Act Oil Control Powder, Scali used their Afterglow Illuminating Powder to add a sheer, luminous glow to her cheekbones, brow bones, and on the bridge of the nose to brighten and accentuate the bone structure of the face.
 Scali used Pür Minerals Eyebrow Pencil in Blonde Roast to give her arches strength without competing with the rest of the face.
What do you think of Christina Hendricks' makeup look at the Emmys?
"Using the warm, shimmery bronze in the Pür Minerals Jetsetter Eye Shadow Trio,  I swept the color all over the lid and under the bottom lashes blending to sheer at the crease and extending outward to elongate the eye. The sheer wash of color enhances the eye is a soft, sultry way." Scali used a mixture of Pür Minerals Eye Defining Pencil in Deep Graphite on the top lashes, Polished Stone under the lashes, finishing off with a few coats of Pür Minerals Big Look Mascara.
Lastly, using her her fingers, Scali applied Pür Minerals Chateau de Vine Mineral Lipstick in Starlet to the center of the lips gently pressing the color in and blending outward toward the edge followed by layering that look with their Lip Gloss Stick in Daredevil to give the lips a pop of color but keep the lip line soft and easy.