This post is sponsored by P&G Beauty
Award season is in full effect, beauty friends!
The red carpet always inspires me to up my grooming game and I've compiled a list of my favorite I use when I want to feel my glamorous, red-carpet best. Here, your three camera-ready necessities for gleaming skin, a sparkling smile and touchably texturized tresses.  Plus, read on for how to enter a giveaway of massive proportions.
For skin, we've discussed how I would genuinely like to have access to the Gulf of Mexico of Olay Sensitive Skin Body Wash. Thanks to an entire jar of Olay moisturizer dumped in, this silky wash yields bright, luminous skin – even if you're too lazy to lotion up post-shower.
Has a season of mulled wine dulled your smile? I live for my coffee and red wine, so at least once a month, I slap on the latest whitening innovation from Crest: 3D White Whitestrips Professional Effects. I love that they do their job in just 30 minutes and grip your teeth well, so you can talk on the phone and drink water instead of that "Am I experiencing a personal drought?" thing that happens when you have to go a long stretch without hydrating when you whiten with trays.
Last, Herbal Essences has come out with a fantastic new dry shampoo, with which you NEED to acquaint yourself. There are tons of them on the market at the moment but I find few give my hair that "washed" texture as opposed to simply "less dirty." Herbal Essences Naked Dry Shampoo is my new go-to: It doesn't leave a white residue, it absorbs cleanly into hair while imparting sexy sixties texture and helps me extend my blowout by at least a day with zero consequences. I like to spray it onto the ends of small braids and rough up the texture in lieu of a hair band, as well. Try it out!
Tomorrow night during the Golden Globes red carpet, I'll be tweeting up a storm with my gal Aly Walansky about my favorite fashion, hair and beauty looks! Talk to us both (@Glambr & @alywalansky) to participate and share your thoughts and be sure to use hashtag #redcarpetglam to be entered to win the giveaway. There will be one giveaway at 7:20pm and one at 7:40pm tomorrow, January 12.
TWO winners will win these one of these two prize packs, including: 
Giveaway 1: An Embellished Primrose Headband: A thin, silk-wrapped headband is enhanced by a Swarovski crystal-encrusted brooch for added glamour. It will be paired with Herbal's new Naked Dry Shampoo, Vidal's Heat Protectant Spray and Pantene All-in-One Styling Balm.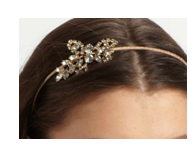 Giveaway 2: Love Moschino Crosshatch Silk Minaudiere Clutch: Luxuriously smooth silk encased in a radiant, crosshatch cage for a elegant and chic design. It will be paired with COVERGIRL Bombshell Mascara, Olay Regenerist Luminous and a mini Olay Sensitive Body Wash.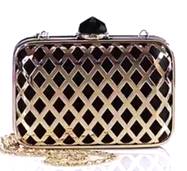 I'll see on Twitter tomorrow! In the meantime, tell me your red carpet hair and makeup predictions below. I'm thinking lots of nude lips and updos. You?