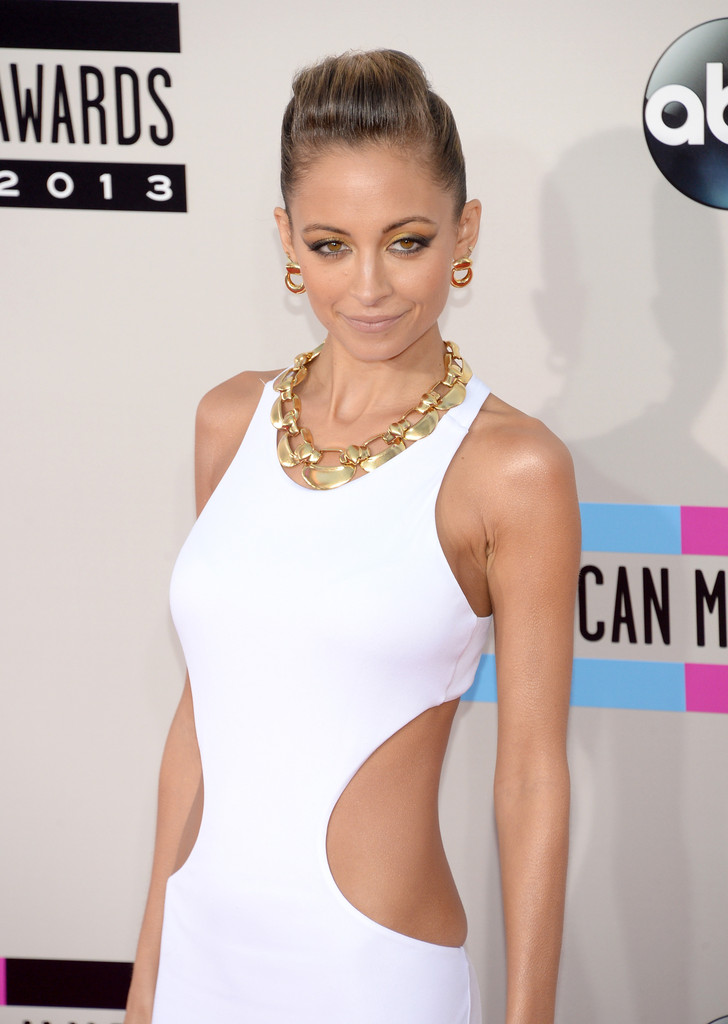 In an outcome that will shock no one, Nicole Richie looked super hot on the red carpet at the 2013 American Music Awards. Celebrity stylist Renato Campora styled Nicole's hair giving her a sleek, modern take on a French twist using John Frieda Frizz-Ease and Avon Global Celebrity Makeup Artist Lauren Andersen gave her a sultry, bold eye to compliment her sexy white Emilo Pucci dress. Here's how to score Nicole Richie's red-carpet hairstyle.
First, Renato applied Frizz-Ease Hair Serum Original Formula ($9.99) to Nicole's wet hair to set a smooth foundation for her look.
Next he applied Frizz-Ease Heat Defeat Protective Styling Spray  ($6.99) to her towel dried hair before blowing her hair straight with a round brush. Once dry, he applied Frizz-Ease Secret Weapon Flawless Finishing Crème ($5.99) for a smooth texture.
He then pulled the two sides of her hair to the back of her head, twisting each side and securing the hair with bobby pins. Focusing then on the middle/top part of her hair, he added some mousse to create volume and give her the modern element to her hairstyle. To finish the look, he twisted the rest of her hair down the back of her head, again securing the look with bobby pins.
To finish the look with a little touch of shine, he misted a little Frizz-Ease 100% Shine Glossing Mist ($6.99 at drugstores).
What do you think? Yay or nay on Nicole's 'do?