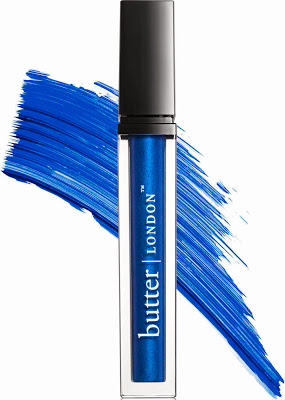 Here: Butter London Wink Colour Mascara in Inky Six
Official Mascara Correspondent Ashleigh Ciucci takes on Butter London Wink Colour Mascara. Here, her review.

Butter London makes some of my favorite nail polishes so I was interested in trying their new makeup line.  I had the pleasure of getting this mascara in not only Union Jack Black, but  in Indigo Punk (purple), Inky Six (blue), Jaded Jack (green) and Pistol Pink (duh.)
I'll start with the formula: it's a bit dry and more matte than I tend to go for. It takes a bit of wiggling to make it grip to your lashes and it's really best when concentrated at the roots. I found the formula worked best when layering atop itself so I actually pushed it to three coats. I avoided dragging the product through the tips become it was so dry. But my lashes looked good-clumpy and thick.
This formula doesn't offer a lot in the length department and is far too brittle for an afternoon touch-up. And it's a MESS to clean up at the end of the night, just a splash of water and the product dribbles like crazy. I recommend removing it first with a makeup wipe and then moving to soap and water.
Now a note on the coloured (I'll go with the British spelling) versions. Fun bright mascaras are hard to translate from tube to lash but these are a nice way to play with color. My favorite is Indigo Punk because it makes my green eyes super-green. Because the formula lends to multiple coats, you're able to build the color up nicely. While the Union Jack Black (and it's cousin Brown Sugar) is nothing to write home about, the coloured mazzies are quite nice. Buy 'em if you're ready for some lash dazzle!–Ashleigh Ciucci
Butter London Wink Colour Mascara retails for $20 on amazon.com. 

Like this post? Don't miss another one! Subscribe via my RSS feed.