By Julia Casella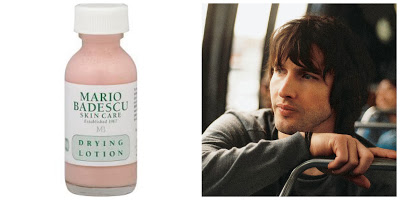 Every time I reach the end of a
Mario Badescu Drying Lotion
bottle I honestly starting singing James Blunt's
Goodbye My Lover
.
Goodbye my lover
Goodbye my friend
You have been the one
You have been the one for me
It's a staple in my skincare routine since high school. When I first moved to NYC, I got terribly lost walking from TriBeca to a West Village pharmacy that carried my beloved be-gone blemish potion. When I moved, I may or may not have used "plus, the apartment is only a few blocks from Avignon Chemists!" as selling point to my parents, who oddly enough were not as concerned with my proximity to clear skin than I would have hoped. Luckily I still got the apartment, and I have never had to be without the spot treatment…. until now.
Like James said, I saw the end before we begun, but unfortunately I didn't see the end right when it was coming. Tonight my bottle ran out and I had no back-up on hand. This magical dying lotion is best applied before bed: just dip a q-tip in the bottle, dab the product and the blemish will disappear behind a layer of pink. By morning it will be gone and you will start to refer to it as Mario (despite the fact that the brand has a trillion other amaze products, the one takes seniority) as in " I'm exhausted, I'm just going to put some Mario on and pass out" or "LOL I went to Whole Foods with Mario on my face. Whatever. I'm making a kale salad, come over."
Urban dictionary definition aside, I just want to tell the drying lotion: You touched my heart, you touched my soul. You changed my life and all my goals. I hope I see you soon but until then, I'm so hollow.
Follow Julia on Twitter: @Julia_Casella.
Like this post? Don't miss another one! Subscribe via my RSS feed.