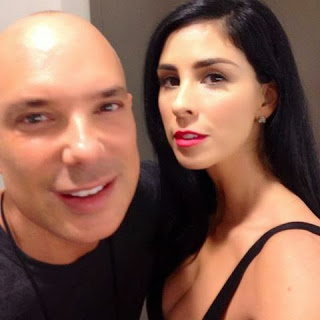 I think people tend to forget how pretty a funny gal can be and Sarah Silverman BARELY gets credit for being straight-up stunning in a Queen Esther (of Purim fame) sort of way. She looked absolutely looked like a sultry temptress on the red carpet at the Emmys last night.  Celebrity makeup artist Brett Freedman shares all the details to replicate her makeup look below. That's him in the pic with Sarah, PS. 
"Sarah is particular about her glam. She wants to feel pretty, dressed up and womanly…but not like she's lost herself in the process. To put it plainly, Sarah likes a little edge. Since we are both obsessed with Mad Men, it felt very natural to tip the hat to classic Hollywood. Here's how we got the look:
Prime:
Nanoblur
, I love how it gives a touch of moisture along with makeup preserving anti-shine.
Foundation:
Make Up For Ever in HD
. I used #127 to give Sarah's face a warm lift of color. I brought it down the front of her neck for a seamless color match.
Conceal: Benefit
Fake Up
in medium. I did a veil of coverage with the foundation so I would only need to use a touch of concealer on the inner under eye to brighten.
Powder: Laura Mercier
Mineral Powder
in Real Sand. I used Laura Mercier's new wooden handle blush brush to apply. I like a tight face powder brush, for control.
Blush: I did Sarah in all mattes…she's not a fan of anything dewy or shiny. I used a very sweet color, MAC
Pinch o' Peach
on the apples to give a healthy, classic glow.
Eyeshadow: I actually used Laura Mercier's pressed setting powder in
Translucent
on lips and brow bone. MAC
Wedge
in the crease. Very simple, very clean.
Eyeliner: Too Faced's
3*Way lining tool
. Love the foolproof 'dot and dash' application.
Mascara: Benefit
They're Real
. Sarah isn't a fan of faux lashes so I apply 4 whopping coats. In between each I powder lashes to add fullness.
Eyebrow: My own Vanitymark
Ultra-Brow
powder in Dark Choco. I filled in her brows behind the hairs to define and built out the tail with a dampened brow brush for a crisp finish.
Lip prep: My own
Dr. KISS
satin finish lip balm. Gives lips a touch of pink…just in case there is some lipstick wear, you don't want the natural lip to peek through.
Lipstick: I wanted a near red…a pinky, uncommon shade and I found MAC's matte in
Relentlessly Red
. Perfect!
Body: To give Sarah's skin a lift of warm color, Sally Hansen Airbrush Legs in light with a glistening LORAC powder over top for a light catching glow."
What do you think of Sarah Silverman's Emmys beauty look?

Like this post? Don't miss another one! Subscribe via my RSS feed.