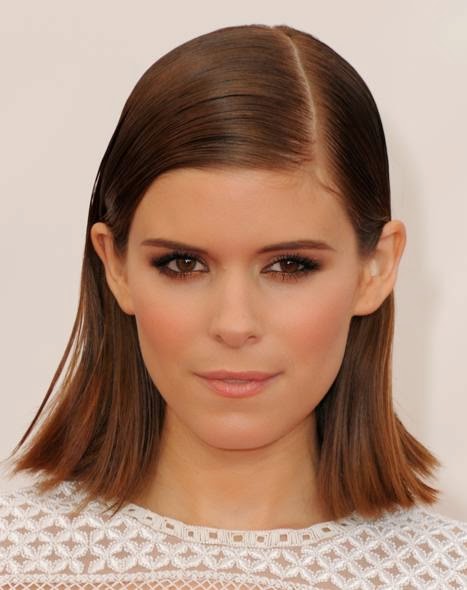 Celebrity makeup artist Coleen Campbell-Olwell created a sultry, warm look for Kate Mara tonight for the Emmys using Orlane products.  Here, the beauty breakdown, according to Coleen. 
"Kate is wearing a beautiful, long white dress with a bit of edge and a deep side part, so we wanted to go with a bronzy, gold look on the eyes and keep everything really warm.
To prep Kate's skin, I began with the Orlane Elixir Royal, it gives such a nice canvas to the skin that it was perfect for the night.  Next, we applied the Super-Moisturizing Light Cream, which I love because it is not greasy at all so it doesn't break up the makeup but really holds it in place and is super moisturizing.  Then, I applied a bit of the Crème Royale Yeux to her eyes.
For her eyes, I used a gold along her lids and then a bronze along the outside to create a more cat eye shape and then lined the inside of her eyes with a bronze eye pencil.  To take her eyes to the next level, the Orlane Volume Care Mascara was key. I was so impressed with this mascara because it gives the lashes almost a lacquered look, which added to the edginess and made them look super long and voluminous.  This mascara is amazing, I really love it!  I also used the Highlight Care Brush to highlight the inner corners of her eyes, which really draws the audiences' eyes to hers.  Lastly, to define her brows, I used the Dior Brow Styler in Universal Brown.
Then, I went in again with the Highlight Care Brush and applied it straight from the applicator onto her cheekbones.  I also applied it on her cupid's bow with my finger in a tapping motion to give her lips a poutier look.
Next, I used a big fluffy brush to apply the Orlane Bronzer right underneath the cheekbones.  I tapped it on and the blended it out very well.  This bronzer is great because it's matte but there is still a tiny hint of a glow so it doesn't look dead on the skin.  The contrast with the highlight on the cheekbones is gorgeous and really gives more dimension to the face.  Then, I brushed the bronzer along the hairline to complete the overall warmth that we were going for.
Lastly, to keep her t-zone from getting too shiny throughout the night, I applied a light dusting of the Transparent Loose Powder."
I love this look, especially with Kate's haircut. What do you think?

Like this post? Don't miss another one! Subscribe via my RSS feed.