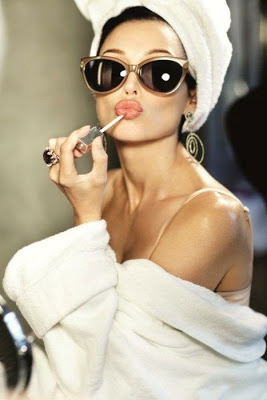 I love goodie bags. Wasn't leaving a birthday party with your own little gift just the best thing ever? Alas, my birthday party goodie bag days are over (which is probably why I work in this never-ending-goodie-fest industry) but I am lucky enough to have a little sister and a few years ago she came back from a party with something on her head.
You see, her friend had a pool party and that means come cake-cutting time everyone's hair is soaking wet. Not cool. So instead of letting them shiver, the birthday girl gave everyone
turbie twists
. When my little sister told me this I couldn't help but imagine all of them, lounging on floating pool chairs, with giant sunglasses and their hair all wrapped up in different color turbie twists. Had the birthday party not been for a 12 year-old, I would have also imaged them smoking long cigarettes and drinking martinis. As soon as she came back, hair all glamorously contained by her light pink TT, I snatched the empty box and read:
The original super-absorbent hair towel that dries hair in just seconds. Whether your hair is long or short, the one-size-fits-all 100% microfiber towel will stay in place. Simply place it on your head, twist, and fasten.
Instantly I knew I needed it. So like any normal insane person, I googled it and ran to the nearest drugstore, and at $5 a pop, I bought 4.
TT is so thin, yet absorbent, but most of all, efficient. She has a little elastic in the back so my twist always stays turbie (what does that even mean?) and never comes undone. Basically I am a convert to this suburban pre-teen hair towel cult and I'm never going back.
[Ed. note: I am the Vice President of the Turbie Twist appreciation society–I have two and I freaking love them.–Amber]


Like this post? Don't miss another one!
Subscribe
via my RSS feed.