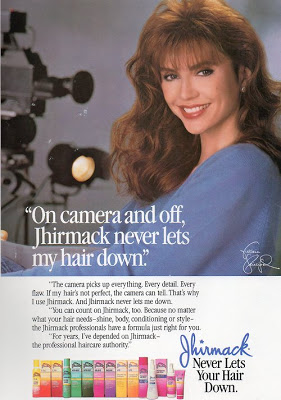 I want you guys to know that EVERY Throwback Thursday, I look long and hard for the iconic Jhirmack bounce back beautiful hair commercial. The one where I really decided body is what my hair needs more than ANYTHING and ignited a life-long obsession with hair. But I look and look and find nothing but OTHER Jhirmack commercials and I end up posting some other (albeit meaningful) Throwback Thursday hair ad. 


This week, I'm paying homage to Jhirmack (wherefore art thou, Jhirmack?), even though it's via another famous ad. This one's about a shampoo for frequent aerobics-class takers, no doubt. Check it.



Do you remember this commercial, or the bounce back beautiful hair version?


Like this post? Don't miss another one! Subscribe via my RSS feed.