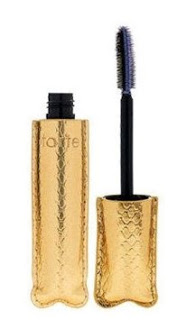 This week, Official Mascara Correspondent Ashleigh Ciucci takes on Tarte's Lights, Camera, Flashes! Statement Mascara. How does she fare? Read on…

Lights, Camera, Cute Packaging! This mazzie stands out, wrapped in gold faux-snakeskin.
The brush is fat with rubber spikes and holds a lot of product. One coat gives lots of volume at the root but doesn't offer a lot in the length department. The uber-wet formula clumps at the roots which is nice, but you have to be quick with your second coat. On one of my eyes I waited too long, the formula dried quick and it was nearly impossible to get another coat on without major clumps. I had to use a lash comb to get my lashes looking right. With the eye I DIDN'T wait to long to apply coat two, I got even more volume but the product just wouldn't pull through the tips for va-va-voom length.
Since the formula is quite dry, an afternoon touch-up wasn't possible. On top of all this, it took loads of eyemakeup remover and soap and water to get rid of all traces at the end of the day. If you're okay with paying extra attention during the application stage and if you love glam packaging, buy this one. However, you can get good results from a mascara with less pomp and circumstance!–Ashleigh Ciucci

Tarte Lights, Camera Flashes! Statement Mascara retails for $21 at amazon.com.
Like this post? Don't miss another one! Subscribe via my RSS feed.