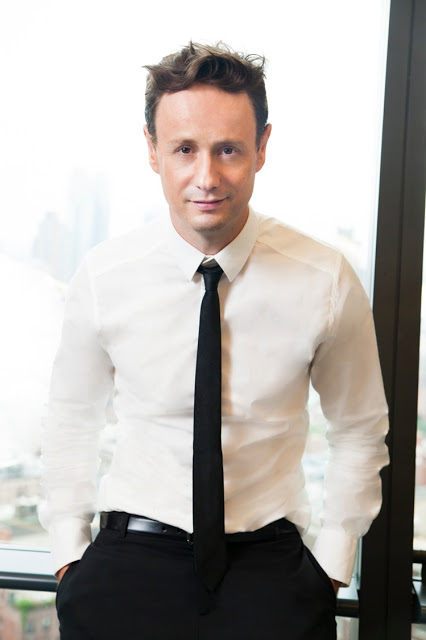 In honor of summer's unofficial start this week, I hit up
Dolce&Gabbana National Makeup Artist Christian McCulloch
to glean his best tips on what makeup we need to be wearing, stat. From creating a humidity-proof canvas to lengthening lashes, here's what you need to know to bring that glow.
1. BBJ: What are the must-have spring eye, lip and cheek trends? 
CM: A pop of color always! Even if it's just a flush on the cheeks to brighten up the complexion.
I love the Dolce&Gabbana blushers–Peach, Provocative, Sole, and Delight are perfect for this, especially when layered over bronzers like Desert, Sunshine or Natural for a juicy, glowing effect. Finish off with a little highlighter and you have the most heavenly glowing complexion. The blush goes over that on the apple of the cheek, literally where you smile, for a healthy, pretty glow. Softly brush upward and outwards in sweeping motion, never downward towards the nose and mouth, try and keep this area clean. Highlighter goes higher, on the upper outer cheekbone–sprinkled on top–think Jennifer Lopez!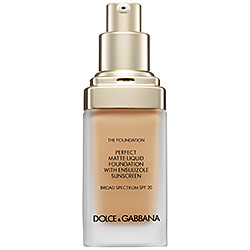 Dolce&Gabbana's new Perfect Matte Liquid Foundation ($66) , available at sephora.com . 
2. BBJ: Can you share some tricks for sheering down foundation for a more natural effect for summer?
CM: Apply foundation with fingers.  I always find that I use less makeup when I apply with my good old fashioned fingers then with a brush or sponge. Warm foundation in your hands and pat in the areas needed–usually the center of the face and any targeted spots. Then use a triangular wedge sponge to blend as needed. These sponges are my absolute favorite. Inexpensive and disposable–I can't live without them!
3. BBJ: Coral lips: What's your favorite way to achieve them this season? 
CM: Bold, vibrant lips are always popular in the summer but this year we are seeing a lot more shades taking a cue from the neon trend. My shade obsession for summer is the Dolce&Gabbana Classic Cream Lipstick in Coral. Try the bold look with a lipstick or even a gloss or stain will get you the same effect without overpowering your look.  
3. BBJ: Are you preferring stains, lipsticks or gloss for spring? 
CM: Love it all! Depends on your lips, your outfit, your hair, (Is it touching your face? Hello!)  the overall "style balance." For practicality I do love a stain, a shiny sheer stain, not necessarily dripping in gloss a la Kardashian, fabulous as she is! It is a more practical look that you can easily achieve with your favorite lipstick color. Use your middle or ring finger to dab onto your lips directly from the tube. Layer until you get the color you want and you have a lasting stain that isn't drying.  
CM: I love mixing a little liquid highlighter with a dewy eye cream and applying with a foundation brunch–the Dolce&Gabbana Foundation brush is great for this. This is a great trick if you feel a highlighter is getting a bit too frosty. It provides hydration, a glow achiever, without the glittery look. 
5. BBJ: What's the most natural way to get a gorgeous bronze look without looking like a teen at the mall who just discovered she can afford Wet 'n Wild? 
CM: It's like layering and layering, practice makes perfect!  Be aware of how clean your brushes are and if your face is too moist, then the bronzers will leave more noticeable marks than if you are applying to a velvet complexion.  I like to start with a foundation that is fitting to the skin to perfect the complexion so you know the bronzer will be just right.  The new Dolce&Gabbana Perfect Matte Liquid Foundation is a perfect skin starter.  It regulates the hydration in the air as well as on the skin so you get a softly smooth look that is the quintessential base. 
I always put the bronzer lightly first. Always tap off lightly any excess product on your hand.
Use soft, sweeping circular motions, going softly upwards and outwards, usually. Go a little more concentrated under the cheekbone for extra contour and dimension. Apply it very lightly at the sides of the forehead brushing both inwards and also outwards towards the hairline and temples. Be gentle along the jawline if you want more shape and contour there too. Just lightly, so as not to see obviously where it starts and begins. Subtler is always preferred than heavier, as you can keep building. The demarcation line is not desired!  Finish bronzing by going very softly over the other areas of the face, just to blend in, but without any new product on the brush, just the remainder of what you used, so as to leave the area around the nose, mouth and chin nice and clean. C-shapes or S-shapes are great for sweeping.
6. BBJ: What's your favorite mascara and technique for long lashes? 
CM: Dolce&Gabbana Secret Eyes Mascara first to catch EVERY lash. Then go in for the kill with Intenseyes Mascara for extra oomph. Mascara is the last thing I do at the end of any makeup application. But foundation, concealer, blush, bronzer, powder, liner, eyeshadow, basically everything really should be done before, so it doesn't go into the mascara and dull the beautiful mascara application. I like the lashes looking, crisp, shiny and black for maximum effect. Again repetitive strokes to build them, and wiggle out from root to tip. Once you have this down you will never need to search for a new mascara – its just as much about the technique as it is about the brush and formula. 
I just keep re-applying if I want more drama, I don't particularly wait for it to dry, perhaps just enough while you do the other eye. I love dramatic lashes but too cloggy can be a bit much. If it's an old mascara you will know right away and toss it immediately.
If you get it on your lids, take it off right away with a cotton swab. It will come right off if you're fast and shouldn't even really disturb the shadow. Just raising your eyebrows and looking down should be enough, without having to touch the lid with your finger.
CM: If you don't have the patience to place on individuals–which are actually pretty easy once you get going, and definitely the most subtle–then a corner lash, that is, a partial strip on the outer corner, is a great way to kick up the eyes. I did it on Sofia Vergara recently and it was just the right amount of exaggeration, without the full drama of an entire lash strip. Followed by Dolce&Gabbana's Glam Intense Liquid Liner in Black traced finely across the lash line to intensify the black. This last step is important to help it to look seamlessly blended. Blend your own lashes into false ones at the ends with mascara. And if you're still lost, don't forget to check in with RuPaul's drag race to see how the pros really do it!
CM: I absolutely love the Dolce&Gabbana The Kohl Eye Pencil in Peacock and Crayon Intense in Acqua.  Blue eyeshadow can be scary and I find a great way to wear a pop of color on the eye is with a thin, sporty line along the top lashes with a flick at the end. Think future Audrey Hepburn! 
9. BBJ: How do we keep our makeup from melting off in high humidity?
CM: Matte Foundation really is the best for its staying power but it also leaves a smooth, velvet finish that isn't drying like a lot of typical long-wear makeup. Apply with sponges and even out with a foundation brush. Always think about your day before applying your makeup.  Do you need a thick moisturizer or extra sunscreen?  If so, make sure to wait until both are completely absorbed before applying your foundation, as you don't want it to slide around on your face once you get down into the subway. If not, then forgo the extra skincare and use a BB cream or foundation that incorporates skincare benefits into your makeup.
***
Thanks, Christian! FYI, the makeup maestro will be at Saks Fifth Avenue in NYC and San Francisco meeting with customers on May 30th (NYC) and June 1 (SF). If you're in town, stop in and ask him YOUR burning beauty questions.
What makeup are you going to buy for summer?

Like this post? Don't miss another one! Subscribe via my RSS feed.