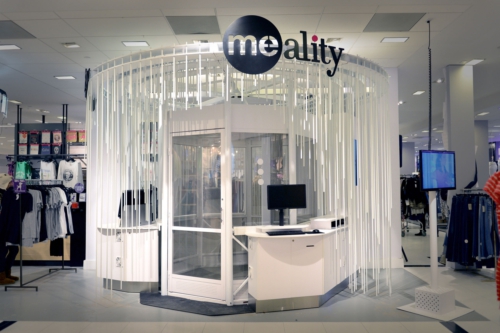 Anyone who's shopped for jeans knows that it falls somewhere on the shopping terror scale under bathing suits, but above pretty much everything else. So I recently headed to
Bloomingdale's
to try out the store's new
advanced
denim shopping experience
, thanks to a new partnership with
Me-Ality,
the digital sizing station that matches shoppers with their best fits across a range of premium brands. Five specially-designed Me-Ality™ sizing stations have been installed at Bloomingdale's 59th Street (NY), Roosevelt Field Mall (NY), Chevy Chase (MD), Santa Monica Place (CA), and South Coast Plaza (CA) locations.
Here's how it works: In 10 seconds, you can take part in a complimentary, fully-clothed size-matching session and receive their best fit in the premium denim styles sold at the store. The good news? I didn't have to be naked or anything embarrassing; simply hopped into the station, which looked like a time machine, and stood with my arms out for about a minute while it took my measurements. I didn't have to even wear anything specific. The bad news is that when I came out of the booth, it was still 2013 and not 1963, as I'd hoped (so I could say things like "Don't get handsy!" and rock "Valley of the Dolls" beauty looks with wild abandon… well, more than usual).
I love that Me-Ality slightly overcompensates size-wise with its suggestions, so that there's never that beyond depressing scenario with you pulling on jeans that won't even reach your hips. It did, however, suggest sizes that were one or two larger than I usually wear. I like my skinny jeans on the tight size and I always buy them a bit snug because they stretch with wear, usually a full size. I'd recommend bringing in the size Me-Ality says, but also one or two down for the best fit. The sizes for each brand vary so much that Me-Ality is supremely helpful in figuring out your size in brands with which you're not as familiar though. I know the size it says or one below will at least fit loosely, making ordering jeans online a real possibility, finally. I left with a comfy pair of Elizabeth and James Ozzy jeans that I've been wearing non-stop. 
I'd hoped in vain that perhaps Me-Ality would function kind of like Austin Powers' time machine. 
Me-Ality recommends denim styles sold at Bloomingdale's both in-store and online, including J Brand, 7 For All Mankind, True Religion, Hudson, and Citizens of Humanity among others. This will be the first partnership bringing the Me-Ality™ experience to the department store environment.  
What do you think? Will you try Me-Ality next time you're at Bloomingdales?


Like this post? Don't miss another one! Subscribe via my RSS feed.