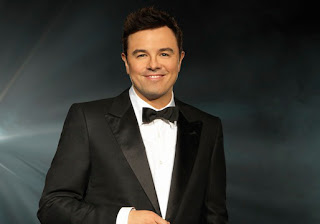 Do you know what I love about Seth MacFarlane, other than his humor and general success? The fact that the dude CLEANS UP and not in a way that's pretty the way other Hollywood types tend to skew. He looks like he fell straight out of the '50s or '60s, when men were men, but still put together. Also, he can seriously sing and dance and does it in a hilarious way wherein you don't really know if he's serious, but you're enjoying it. Here, his stylist  Diana Schmidtke, who's tended to the fantastic faces of George Clooney, Matt Damon and Robert Pattinson, discusses the regimen she implemented for Seth MacFarlane's important evening as Oscars host. 
"We started with a Royal Shave from The Art Of Shaving — which is their signature shave at the Barber Spa.  The shave is key to getting the closest shave possible, but giving moisture to the skin. Part of The Royal Shave they have a mask that is applied to the face which contains Desert Rose Clay — this is a KEY ingredient to moisterie and keep the skin hydrated all day (something that is great for Seth who is on-stage for a long-time). Another reason I opted for the Royal Shave for Seth is because the shave lasts longer. As you know everyone goes to parties after the Oscars so it's a long night, no one wants that 5 0'Clock shadow to appear at 1AM; you want to keep the clean shaven look all night and a straight razor shave (from a professional barber) will do this!
Then we did his hair. I went with a more groomed look (compared to his everyday look,  but kept it fun!).
Lastly we did his makeup (I didn't need to use much makeup just anti shine by Peter Roth, and concealer by Jouer). I opted for ant-shine because it's long lasting, and Seth was on-stage for 4 hours (And there are no powder particles flying off my brush and risking that landing on his suit). It's very dark backstage! Things move quickly and there isn't a whole lot of time like we have during a photo-shoot." 
What did you think of Seth MacFarlane as Oscars host this year? 

Like this post? Don't miss another one! Subscribe via my RSS feed.