Fictionary is a column showcasing beauty-related words that don't exist, but should.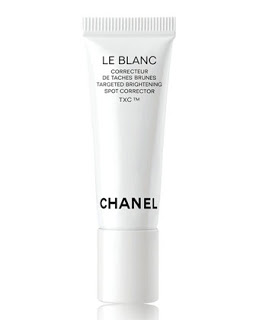 I wish the name of Chanel Le Blanc Spot Corrector didn't bring my pop-culture sieve of a mind directly to Joey Tribianni (played by Matt LeBlanc, of course) but you and I both know it does. Anywho, we need to talk about my latest Sin Care item, Chanel Le Blanc Spot Corrector.
It provides salvation from the sin of picking at a pimple, which is a crime I commit frequently, alas. For the longest, I've been relying on a prescription hydroquinone cream to lighten dark spots left in the wake of pimples past (my skin is a veritable Defending Your Life-style Past Lives Pavilion of spots of departed zits). They hang around for months, even YEARS. But Chanel's employing a new ingredient, TXC, which is a derivative of transexamic acid, which gets rid of age spots by inhibiting an enzyme called tyrosinase, which is necessary for the production of melanin within the skin. TXC also prevents melanin from forming, but does so by reducing the levels of two other components necessary for melanin production (prostaglandins and arachidonic acid).
After just a couple applications, I found that hyperpigmentation was much less noticeable and my skin looked brighter, smoother and more even-toned. Check it out for sure.
Buy Chanel Le Blanc Spot Corrector for $98 at Nordstrom.com
Like this post? Don't miss another one! Subscribe via my RSS feed.