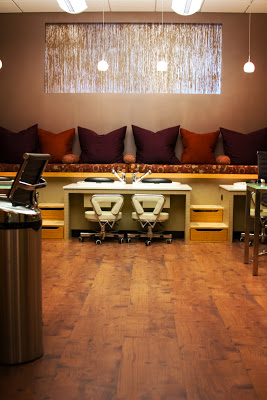 Before you take off for a week+ of suburban delights like Red Lobster (confession: I'm an unironic subscriber of the captain's catch weekly email), malls, movie theaters and Target trips and are knee-deep in family members and gifts to wrap, take a little "me time" and indulge in the latest seasonal pedicure offering from Eve Salon–the Currant Affairs pedicure. 

Here's what you'll get with your service. Dry skin will be buffed back to softness with Whish's fashion-forward limited edition Black Currant Sugar Scrub. Polishing off the rough edges of the winter, toes will then be clipped and cleaned. Finally, the feet will be moisturized with blackcurrant fragranced body butter, topped with a polish from a family of colors introduced by the First Lady herself. Warm up with a cup of Stash's Blackcurrant tea– spiked with a float of Crème de Casis, if desired. And dolls–I desire.
Plus, everytime I say it, I hear that arrow-piercing-target sound from the '90s news show, A Current Affair," obviously.
Currant Affairs Pedicure: $40 (45 minutes) is available for a limited time only.  Eve Salon is located at 55 West 8th Street in New York City. 

Like this post? Don't miss another one! Subscribe via my RSS feed.