Eloise at The Palm Court
For my final Meaningful Beauty Meaningful Activity, I decided to do one of my favorite solo activities and take myself to tea on a quarterly basis, at least. Serious tea, clotted cream, earl grey and all at The Palm Court at The Plaza, for the hotel's famous Eloise offering. It's clearly designed for kids; it includes peanut butter and jelly tea sandwiches, but alas, it seems I'm their target demographic because I think it's THRILLING. I first discovered it a couple years ago enjoying tea with my gal Anne Fritz of The Jet Set Girls.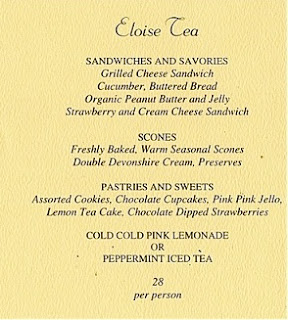 Tea solo is a great way to unwind after what can be 10 working meals in a row with gals in the beauty industry where I'm "on." Don't get me wrong, I'm lucky to work in an industry I love enough to keep the party going during lunch, dinner and even brunch on weekends with colleagues. But sometimes the girl talk can become exhausting. When I realize I've been on the receiving end of 32 conversations in a week about whether I think he's going to propose/why he doesn't pick up his socks/why we've been dating for over a year and he hasn't said he loves me/the fact that my OK Cupid date works at Trader Joe's/I want to quit working immediately and be a trophy wife and why can't I find someone who will fund my lifestyle (that's called Not Knowing Your Audience, BTW–I work about 75 hours a week and can't even imagine the luxury of twice the income and half the bills, let alone ZERO BILLS)/what kind of destination bachelorette party I should have at age 33/why doesn't he want to have a baby 3 months after we got married in our early 20s…  I want nothing more than to bring the latest issue of Elle and enjoy some tea and light bites in peace. And maybe a glass of wine or two. To be fair, it's not really the topics that are beginning to incite rage, it's the frequency with which I have one of those conversations (three meals a day).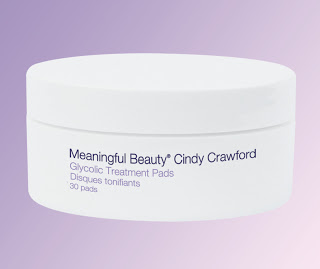 And while I'm exfoliating repetitive conversations from my lifestyle, I also like to do the same for the similar skin cells on my face during winter. For the most glowing skin possible, I swipe on Meaningful Beauty Glycolic Treatment Pads to rid myself of dead skin buildup for gleaming smoothness for a perfect canvas for makeup. Check them out at meaningfulbeauty.com. 

Disclosure: This post was sponsored by Meaningful Beauty, but all opinions herein are my own. 

Like this post? Don't miss another one! Subscribe via my RSS feed.