I've talked before about how yoga calms me down in a way nothing else can. It took me years to embrace its slow pace and inherent new-ageyness but once I did, I never looked back. 


Working for moi (in the words of Miss Piggy) is the most excellent thing I've ever done for myself, to be frank. I'm lucky enough to be writing for many different outlets, in addition to BBJ. I never say no to a partnership with a website or magazine I respect and rarely does a longtime contribution relationship come to an end. One could say I'm a hoarder of freelance clients. Right now I'm ghost-writing a celebrity hairstylist's blog, contributing MTV Buzzworthy posts, profiling beauty industry greats weekly for ELLE.com, talking beauty over at Refinery29.com, DailyGlow.com and StyleUnited.com AND am in talks with a major women's magazine about contributing to their blog and and magazine. Coupled with daily updates on BBJ, market work and testing products, it makes for a full time job and a half. I'm embracing a very Hunter S. Thompson "Buy the ticket, take the ride" attitude about my freelance work. It's busy, but I do what I love and to keep myself sane when I'm working till midnight on a regular, I take a yoga class at Exhale Spa with either Stefanie or Christine. 

I invest in a monthly membership at the Gansevoort Park location of Exhale, but alas, they do not offer yoga classes at that location, so I have to pay a la carte for the sessions at the Central Park South location. I decided to make it my Meaningful Activity for week two and that outpost of Exhale is beyond zen and luxurious. Just one class a week forces me to relax and stop trying to make everything as efficient as possible (talking on the phone while sending an email while researching photos for a story is a common thing for me). Yoga also makes me look less fatigued.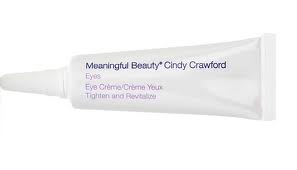 Another fatigue secret weapon is Meaningful Beauty Lifting Eye Cream, which you can score on MeaningfulBeauty.com. After a late night, a little dab of this lessens the appearance of fine lines and dark circles. I stick mine in the fridge a la G Love and Special Sauce for an extra refreshing sensation. 

Disclosure: This post was sponsored by Meaningful Beauty, but all opinions herein are my own. 


Like this post? Don't miss another one! Subscribe via my RSS feed.