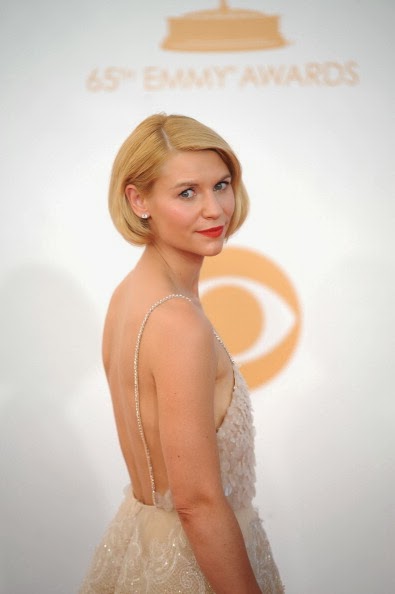 My favorite look of the Emmys last night was Claire Danes and it's even more impressive because while she's an incredible actress, she sort of falls in the handsome woman category. Beauty takes a village (as any gal can attest) and her dream team of Peter Butler for hair and Matin Maulawizada for makeup was KILLER. I tweeted both of them immediately after seeing her photobomb Lena Dunham on the red carpet (how adorable was that) and DEMANDED to know every single thing about her look. And shouldn't she always rock a bob, even a faux bob (fob)? It's very "Let's Bolt with Rayanne" in the best way. Here, Claire Danes' beauty breakdown. 
HAIR
Using John Frieda Hair Care, Peter gave the actress a short faux bob that helped to elongate her neck in her stunning Armani Prive Gown. See below for the steps he took to create her classic and sophisticated look.
Peter applied a few pumps of the Frizz-Ease Thermal Protection Formula Hair Serum ($9.99 at drugstores) through Claire's wet hair and then added Frizz-Ease Curl Reviver Styling Mousse ($6.99 at drugstores) before blow-drying to give the hair more texture for better workability and hold.
Next, Peter gave Claire a low side part and used a large-barreled curling iron to curl the Homeland star's hair inward, which Peter noted also helped to smooth out her hair's texture. Peter then created two small pin curls at the nape of Claire's neck and combed the top of her hair down and under, pinning as needed into the base.  
Peter finished off the look by tucking the hair on the left side of Claire's head behind her ear and spritzing Frizz-Ease Moisture Barrier Firm Hold Hairspray  ($5.99 at drugstores) for hold. To ensure that Claire's bob glistened under all the lights on the red carpet, Peter also applied a sheer coat of John Frieda Frizz-Ease 100% Shine ($5.99 at drugstores).
Do you agree that Claire Danes looked KILLER last night? Let a gal know. 
Like this post? Don't miss another one! Subscribe via my RSS feed.