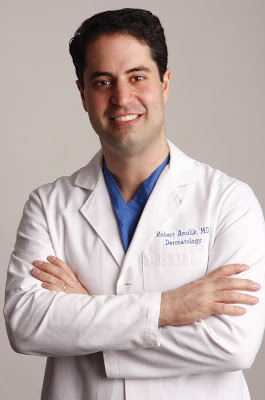 This
Skinterrogation
installment is
Robert Anolik, MD
, medical director of
beautybar.com
, a board-certified dermatologist who specializes in state-of-the-art laser surgery and cosmetic dermatology. He is also a Clinical Assistant Professor of Dermatology at both Cornell and NYU. I hit him up to score some advice on how to address hyperpigmentation, anti-aging and acne-prevention. Check it.
BBJ: Tell me a little about your background! 
RA: While a molecular biology student at Princeton, I first started thinking about the protein structures and functions in the skin. After my dermatology residency at NYU and fellowship at the Laser & Skin Surgery Center of New York, it's been my mission to keep the skin of my patients looking healthy and beautiful. I am also a frequent guest on SiriusXM Satellite Radio.  
BBJ: How can we best address hyperpigmentation with over the counter products? 
RA: Many strategies can improve unwanted hyperpigmentation. It's important for everyone to wear suncreen daily.  But for patients with hyperpigmentation, it's an absolute must. This applies to all skin types, including hispanic, asian, indian, and black skin.  I find my darker skin patients often skip sunscreen because they don't sunburn.  But sun worsens hyperpigmentation, no matter the skin color, and sunscreen can help prevent that.  Otherwise, I suggest looking for over the counter products with retinol and vitamin C.  Both of these ingredients help reduce unwanted pigment.  Finally, try some gentle at-home glycolic peels.  They stimulate a cell turnover that can even out your skin tones.
BBJ: Regarding exfoliation, are physical or chemical exfoliants best? 
RA: This really depends on your skin type.  If you have sensitive or dry skin, physical exfoliants are often better because you can titrate the treatment intensity.  People with thicker, more oily skin often benefit from the chemical options.  Normal skin (not too dry or oily) does well when alternating between the two.
BBJ: What are some tips for acne-prone skin?
RA: ALWAYS look for the words "non-comedogenic" on facial products!  This means the product doesn't cause acne.  Non-comedogenic facial moisturizers frequently include glycerin and sorbitol and other gentle ingredients that moisturizer by bringing hydration to the skin surface from underneath.  On the other hand, occlusive moisturizers are comedogenic. They hydrate by preventing evaporation, but in doing so can plug pores and trigger acne.
BBJ: How about for anti-aging? 
RA: Sunscreen and retinols are the two best strategies for battling skin aging. Sunscreen prevents ultraviolet damage that causes skin to look older. And retinol can actually help reverse the signs of aging.  In addition to these two ingredients, I recommend complementary strategies like peptides and antioxidants (e.g. vitamin E).  Peptides are protein fragments that can often result in rejuvenated appearance in skin, while antioxidants help limit damage from free radicals.
BBJ: How about some tips for those suffering from Rosacea?
RA: Rosacea is a benign inflammation of the skin that can leave many people with pink skin across the cheeks, nose, and chin.  One strategy for reducing its appearance is to use green tinted lotions and cover-ups.  The green counters the red nicely, giving people the appearance of a more even skin tone.  Also, I always recommend that my patients avoid food triggers.  The specifics vary from person to person. But common triggers include spicy or hot foods and alcohol. I know, it puts a damper on Superbowl parties!
BBJ: What are some tips for transitioning our skin care for the fall? 
RA: Beware the onslaught of dry, irritated skin.  As fall arrives, humidity is sucked out of the air.  Combine that with cold blustery winds, another autumn mainstay, and your skin can become dry, inflamed, and itchy.  Avoid overly hot showers, use a soothing body wash instead of bar soap, and reach for the moisturizer as soon as you turn off the water.  Many of my patients also enjoy using products with evening primrose oil. Certain studies have shown it can help with skin scaling, dryness, redness, and itching.
BBJ: What's been most exciting about your career thus far? 
RA: There are so many things, it's tough to choose just one.  But here goes: working with celebrated dermatologist Dr. Fredric Brandt. We go by Dr. A and Dr. B in the office, and patients sure don't get us confused by our appearances. (I'm the one in the tie and the uptight-looking suit, and he's the one in the latest confection from the Paris runway.) Our approach to targeting the health and beauty of skin, however, is identical.
BBJ: What's been most challenging? 
RA: I have a very busy and very absorbing private practice in New York City.  But I insist on staying at the forefront of skin care innovation.  To do this, I've made the challenging decision to integrate my private practice efforts with two academic appointments.  I joined the faculty of the NYU School of Medicine and Weill Cornell Medical College, serving as Clinical Assistant Professor of Dermatology at both institutions.  Additionally, I'm active in cutting-edge research trials being performed right in my office.
BBJ: What's next for you? 
RA: Next is developing optimal home and office skin care regimens for my patients.  There are skin care protocols that are still being developed that will optimally combine the procedures I perform at the office with products that can be applied by the patient at home.  These products include the new Palomar Palovia lasers, exfoliation tools, wrinkle reducers, and other powerful home skin care products.  You'll hear more about this from me, as I believe complementary care between home and your dermatologists' offices is The Next Big Thing!
BBJ: Tell me about your own skin care regimen. 
RA: I wear sunscreen of SPF 30 or higher every day, rain or shine, summer or winter.  My preference is for Neutrogena with Helioplex or La Roche Posay Anthelios. UV light is responsible for the aged appearance of skin as well as skin cancer. Trust me, sunscreen is your skin's best friend.  Otherwise I'm an avid user of Dr. Brandt's skin care line, since they integrate so many of the important and most innovative ingredients on the market.
Thanks, Dr. Anolik! Stay tuned for more Skinterrogation.

Like this post? Don't miss another one! Subscribe via my RSS feed.