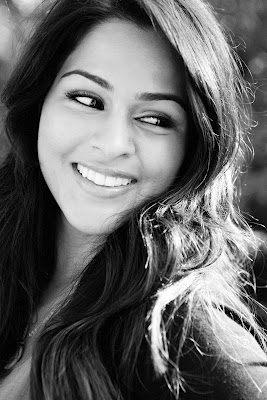 Shyema Azam
freelances for some of your favorite glossies in addition to writing her beauty and foodie-focused blog,
Beauty And The Feast
. She always looks shamelessly chic and despite writing for everyone in the world, always is the very portrait of relaxed and lovely. I want to know how she does it, so I asked her to share her
Five Rules For Life
. She complied; here they are, in her words. 
1. Kill them with kindness. 
Truth be told, the first time I heard this was on MTV's The Real World Seattle…of all places. On the show, this guy Stephen's friend gave him this advice to him over the phone when he was having roomie issues (yes, Stephen, who soon after was responsible for "The Slap Heard Around the World" when he slapped his roommate Irene). So maybe he didn't follow that advice, and maybe The Real World shouldn't be my moral compass. But that one phrase always stuck with me. My spin is "kill them with *genuine* kindness." You can't control other people's actions, but give them less to talk about. You'll be a happier person for it.
2. All you need is love (and good mascara). 
If I have time for nothing else, I'll always do my lashes. It's the one thing that makes me feel polished. And I have too many favorites right now: CoverGirl LashBlast, Dior Diorshow, Mally Ginormous Lash Secret, Giorgio Armani Maestro…just….just don't get me started.
3. Eat, and eat well.  
I had the privilege of meeting Essie Weingarten, the founder of Essie nail polish, who's also a huge foodie. She said to me, "My theory is if someone enjoys their food, they enjoy their life." I couldn't agree more. Savor every morsel.
4. If you're angry, always wait before you react. 
Trust me, this makes the biggest difference in every relationship: if I'm ever rubbed the wrong way, instead of reacting immediately, I always wait it out…a couple minutes, a couple hours, a couple days. The state of anger subsides and it gives me time to reflect on the reasons for WHY I feel that way. A way more constructive way to tackle your problems than having an emotional, babbling outburst. Something that I definitely had to teach myself along the way. Oh SNAP, I got all Dr. Phil on ya'll!
5. Take care of yourself before you take care of others. Different from being selfish.
My mom always makes this analogy: when they tell you before a flight that, "in case of an emergency, place the oxygen mask on yourself before you help someone with theirs," same in life. You can't help anyone if you're the crazy, stressed out one (I'm sure no one would want your help in that state!). It's not with the idea about it being just about you, it's with the intention that you want to be a better friend, a better sibling, a better girlfriend/wife, child, parent, etc. Take a breath, give yourself a 'you' day, make sure you're staying healthy in mind, body, and spirit, and know your limits…and then it'll be a whole lot easier to take care of the other people in your life in the most optimal way.
Thanks, Shyema! Stay tuned for more Five Rules. What are YOURS?

Like this post? Don't miss another one! Subscribe via my RSS feed.