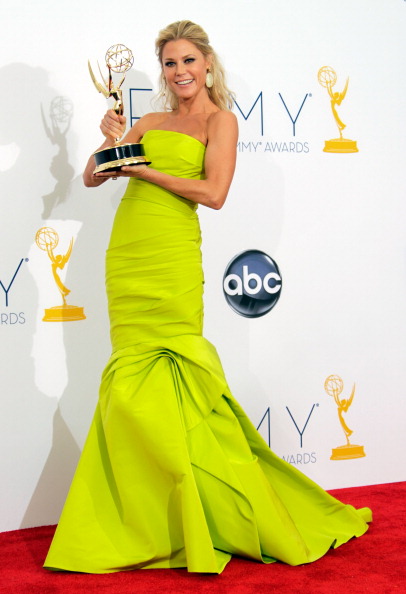 I love Julie Bowen of Modern Family. She took a risk with that chartreuse gown and it worked. She took home the Emmy for Supporting Actress in a Comedy Series The Look in that hairstyle, which looked divine. It's an editorial inspired half-up, half-down edgy, beachy waves courtesy of stylist Jill Crosby. Here's how to get the look.

"The look is voluminous and textured, but nothing refined," explained Jill. "We didn't want to go terribly smooth or too clean because the dress is so sophisticated, we wanted balance – we wanted the hair to be youthful and playful."
Step-by-Step:
 Jill started by finger drying the hair with the new T3 Featherweight Luxe 2i dryer. She lifted the hair at the root, and by adding styling product with her fingers was able to build volume and texture.
After hair is dried, Jill uses the SinglePass Whirl Styling Wand to add more texture. The tapered barrel helps create a natural looking wave.
 EXPERT TIP: After curling the hair, let it cool in your hand and then shake it out so the curl breaks apart, creating a natural beachy wave Before pulling half of the hair back into a chignon, Jill continued to rough-up the hair with her fingers.
EXPERT TIP Back-comb the hair for extra volume Finish the look by taking the dryer and blowing the hair back on itself.  Mess-up the hair so it's not perfect.
Tools used: T3 Featherweight Luxe 2i Dryer, MSRP $250, Sephora.com T3 SinglePass Whirl Styling Wand, MSRP $130, sephora.com.
What do you think of Julie Bowen's hairstyle at the Emmys?
Like this post? Don't miss another one! Subscribe via my RSS feed.