One of my favorite beauty-related stories of all time is ELLE Beauty/Fitness Director Emily Dougherty's about a surgery she had a few years ago. Obviously it's awful that she had surgery, but Emily found out from her doctor a few weeks after that while she was under anesthesia, all she was talking about was LA MER. How the miracle broth is stored in vats. How the vats were treated with sound waves and pulsed light, a vital part of the La Mer process. I just think it's beyond entertaining that her while most people talk about how they hate their work or other anxieties, Emily's subconscious served up a totally reasonable account of how an iconic luxury skin care item is created.
So when La Mer invited me on a trip to Vancouver to learn all about how the sea kelp (a major ingredient in the miracle broth) is harvested and learn about their latest launch,
La Mer The Soft Cream
, I started practicing my "ehs" and summoning an appetite for poutine. I'm no fool.
Our trip consisted of a jaunt via private helicopter (which we quickly learned is the only civilized way to travel) to Port McNeill on Vancouver Island to board a boat and check out the kelp before heading to a delicious lunch on Sonora Island, which you can only access by boat or helicopter. #fancy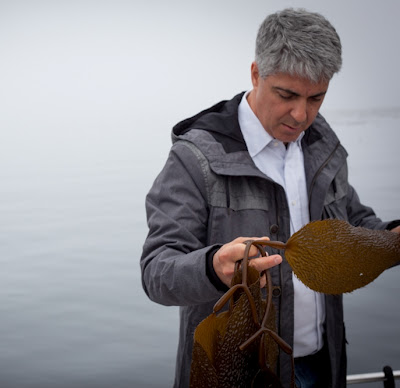 Chemist Andy Bevacqua, La Mer's VP of Research and Development with the kelp. 
La Mer: The History
The beauty backstory: La Mer was created 50 years ago by aerospace physicist Dr. Max Huber. He suffered burns in a laboratory accident and began a personal quest to transform the look of his skin. He believed the sea was a miraculous resource and sea kelp, in particular fascinated him. With its endless ability to regenerate itself, its nourishing properties and powerful way it retained moisture, it held promise and hope. 12 years and 6,000 experiments later, he perfected the Miracle Broth, which he incorporated into Creme de la Mer, the first La Mer formula. The Miracle Broth has antibacterial and anti-inflammatory properties that help skin heal itself. When Dr. Huber died, he left no notes for his miracle broth recipe. So La Mer chemist and VP of Research and Development Andy Bevacqua was sent in to work in Huber's lab after the Lauders purchased the company and try to figure out how to recreate the broth, which Dr. Huber had stored in five-gallon Poland Spring containers. He spent 1.5 years trying to recreate it. He got the Miracle Broth to look, smell and perform nearly identically–but the missing part of the equation was treating the broth with pulsed light and sound waves. Energy in the form of light and sound waves made the fermentation/activity better. It's key. When Andy skipped the step, something was amiss. Once he incorporated it, the recipe was replicated.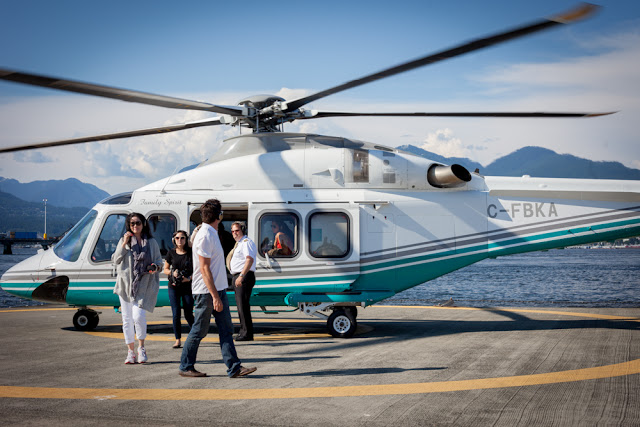 Our wheels for the day. 
Sonochemistry
Why do sound waves affect fermentation? The answer is Sonochemistry. Sound waves can alter chemical reactions, and when included in fermentation, it enhanced the process. Andy is always learning new things about the broth, which brings us to the La Mer The Soft Cream. All five of the brand's moisturizers contain the miracle broth and lime tea extract. Why five? Because consumers have different desires when it comes to texture. The delivery of these ingredient cocktails is different. And like Cliff Claven from Cheers would agree, it's all about the delivery.
Cliff Claven!
Moisturizing Spheres
Advanced absorption technology, Moisturizing Spheres, allow the formula to penetrate deeply, replenishing moisture and strengthening skin. Clinical testing (something La Mer never uses for marketing, BT dubs) showed a 70% immediate improvement in moisture and after eight weeks of use, a 65% improvement in visible lift.
The group in front of the helicopter. 
Moisturizing Spheres create The Soft Cream's rich, yet weightless texture. As the two phases of lipid (Miracle Broth) and water (Lime Tea Extract) are layered in between emollients, tiny multi-layered spheres are formed, creating the smooth, lightweight texture. The spheres are held together by a thread of gentle cohesive bonds, which break upon application. Moisturizing spheres are created at the micro level like a pearl necklace strung together by a loose connection: They're weakly held together, yielding a texture that's weightless yet rich. The small spheres then instantly penetrate the skin and are absorbed from top to bottom, delivering moisture deep into the skin. The Miracle Broth and Lime Tea Extract encapsulated within the multi-layered structure melt layer by layer to release antioxidants and replenish hydration.
Andrea, Vanessa and I after I started singing "Kelp Me, Rhonda." 
Energy
That's not all–in a most Ben Franklin manner, energy is also involved. A healthy complexion has an electrical charge that allows water to be drawn into the skin, keeping it hydrated and smooth. How does it work? Skin has an electromagnetic field and the cream acts as an energy source for the skin. Think of skin as a battery. The movement of ions in our bodies causes electrical energy. The cream jump-starts the process. Andy discovered that skin is actually a rechargeable battery. The miracle broth acts as an energy source, or charger. La Mer's studies show that even a one-percent concentration of the broth can just about double skin's electromagnetic energy, which typically is at about three millivolts, and sustain its elevated levels for more than 24 hours. "If the skin has more energy, then it can perform better," Andy says. "You can't overcharge it–the broth is giving it more energy, but the skin is only using what it needs.
The dudes on the boat off Vancouver Island, harvesting the kelp for La Mer. 
Lime Tea Extract
Why is lime tea important in the La Mer equation? It's made with the rind of a lime marinated in alcohol–actually, Dr. Huber marinated it in 100-proof vodka. The compounds in the rind are rich in antioxidants. On the trip, we learned that the artisenal quality of the brand's ingredients is one of reasons it's so expensive. It goes through so many hands.
View from helicopter. 
Kelp close-up! 
Me, testing out my sea legs. 
Tip/Review
One last tip for application? Press it into your skin, don't pat. For summer, it's a bit rich for me, but I'll be slathering it on come fall. The consistency is absolute heaven–and that's not a term I throw around lightly. In the meantime, I'm using it around my eyes and on my neck Nora Ephron-style. It kept my skin hydrated and calm throughout the six-hour plane ride back from Vancouver.
Availability
La Mer The Soft Cream will be available in September at Barney's New York. Will you try it?
Photo Credit: Jer Crowle
Like this post? Don't miss another one!
Subscribe
via my RSS feed.