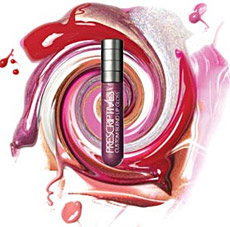 Remember way back in 2009 when Prescriptives sadly closed its counters? In a very The Vampire Diaries way (seriously, everyone gets stabbed on that show and no one ever dies), it's back in action online only at prescriptives.com. And I couldn't be more elated. Read on…
There's a special place in my heart for the amazing range featuring custom blends (which you can get if you still have your formulas, by the by). Prescriptives was my first foray into department store brands after dipping my toe into Clinique after years and years of Bonne Bell. My first lipstick EVER was one of their purple ones for my semi-formal in 1995. It matched perfectly my hideous satin Zum Zum dress. I always loved starting conversations about my Prescriptives lipstick with "Medically speaking…" as I'd decided the word Prescriptives sounded too medical not to capitalize on that. I also knew it'd be the only time in my life I'd start any sentence with "medically speaking."
Anywho, Prescriptives closed global wholesale distribution in January 2010 and 25,000+ fans communicated their passion for the prodoucts and 180,000 opted to hear email news from the brand. So the brand listened up and gave the Prescriptives "passionistas" a fun, interactive online experience. I attended an exclusive event celebrating their new website, where each of the ladies featured in the video below was there. Check it out:
I've already ordered a new Groomstick, sparkly eyeliner, and Vibrant-C. What will you get? GO.
Check out the new prescriptives.com.
Like this post? Don't miss another one!
Subscribe
via my RSS feed.