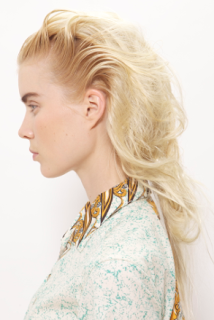 Gooped up Danny Zucko roots were kind of all the rage this season. I saw it backstage at Rebbeca Taylor and Paul Hanlon for Fekkai created a similar deconstructed, masculine look while maintaining an overall soft texture. A nod to the 1950s, the rockabilly front compliments Proenza's retro-inspired collection. How to get the look:

Start with dry hair. Apply Fekkai COIFFOcéanique Tousled Wave Spray liberally throughout hair. Blow dry on a low setting using hands to tangle hair and create a messy look. Use a thick layer of Fekkai COIFFTM Nonchalant Piecing and Forming Wax around the hairline. Comb the waxed portion up and back in a 1950s rockabilly style. Pull remaining, tangled hair into a low, loose knotted bun using a clear hair band. Pull out select pieces of hair from the bun to create a more deconstructed look. Secure with Fekkai Sheer Hold Hairspray.
All Products by Fekkai: Fekkai COIFFTM Océanique Tousled Wave Spray ($24); Fekkai COIFFTM Nonchalant Piecing and Forming Wax ($24); Fekkai COIFF Sheer Hold Hairspray ($24); Available at nordstrom.com.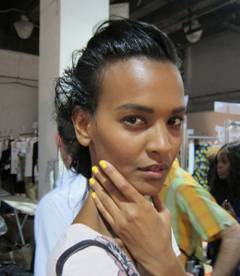 Shari Gottesman, founder of Perfect Formula created a special custom yellow nail shade for the show which will be available for purchase in February. Designers Jack McCollough and Lazaro Hernandez sent Shari fabric swatches a few weeks prior to the show and asked her to create a saturated yellow to complement the bold color palette of the collection. At the beauty test they asked her to darken the tone a bit and take out any hint of shimmer and the final color was bottled the day before the show.
"This collection, which was inspired by 1940's 'roadside car culture,' features a lot of very prim lines, paired with funky fabrics, colors and patterns," said Shari. "The designers wanted the beauty looks to balance out the ladylike aspect of the clothes and play more off of the funky element, so we created a really interesting mustard yellow shade to bring a special edge to the nails." According to Shari, the shade, which she is calling Pollen, pairs beautifully with the bold color palette of the collection, and "feels very fresh, very modern for spring."
Perfect Formula Perfect Color in Pollen will be available in February at QVC.com and PerfectFormulas.com for $13.50.
Like this post? Don't miss another one! Subscribe via my RSS feed.