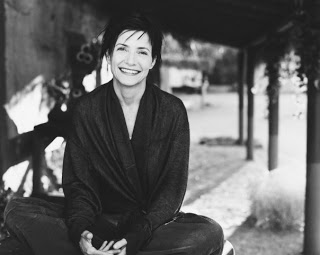 I recently scored a coup of an exclusive interview (thanks, Karen Robinovitz, for the hook-up!) with fashion stylist turned designer Lori Goldstein, who so impressed me with her genuine demeanor, magical jewelry and down-to-earth attitude. She so put me at ease the second I met her (I interviewed her while she got her hair cut from the most main of mane men, Orlando Pita–stay tuned for an exclusive interview with him as well–I multitasked, obv), that I actually confessed that the LaROK sweatshirt dress I was wearing was a treasure I unearthed in the Runway section TJ Maxx. And know what? I didn't feel remotely ridic admitting that to one of the MOST influential fashionistas in the biz. The woman also has far reach and major influence: When I tweeted about how much I loved the Vera Wang Princess perfume creative featuring Zoe Kravitz (the scent is a sparkling fruit-laced vanilla–love!), Lori tweeted back that she'd styled it. It was pretty much a perfect storm of fabulosity. Now, this savvy stylist has designed a new line for QVC called LOGO Instant Chic, which boasts layerable, wearable basics and gorge (sometimes ruffled!) accessories. Don't think I didn't pick her brain about all things garment. Check it:
Beauty Blogging Junkie: What are your favorite Fall 2010 trends?
Lori Goldstein: I have many favorites. Khakis in army green. Mixing prints. Gorgeous furs, they can even be fake. That luscious fall look. It's comfortable, rather than over the top.
  
BBJ: What is your favorite color for spring 2010? 
LG: I'm obsessed with the blush. Blush shoes, blush accessories. I love spring.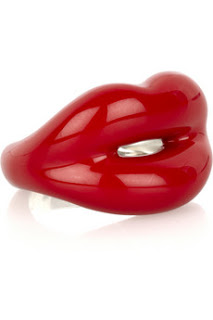 BBJ: What is your favorite fierce new accessory? 
LG: By far, it's my new Solange Azagury-Partridge Hot Lips Ring. [Pictured, left] They come in a ton of colors, but red is my favorite.


BBJ: What is the easiest way to look put together in a flash?
LG: Be true to yourself. Wear something you love that will make you feel great. Make sure you have those pieces, invest in them. But make sure they're you, with a few experimental things that are outside the realm of your comfort zone sprinkled throughout your wardrobe. I believe in picking out your outfit the night before for a big event. See what talks to you in your closet. Put in the time. It makes a difference. When I take the extra few minutes to choose what I'm going to wear, I have more confidence. Think: What do I want to project? Be in the moment.
BBJ: Have you worked with any celebs recently?
LG: I just worked with Julianna Marguiles. Her skin is amazing. I also recently worked with Rihanna whom I'm in love with. I love working with celebrities who participate in the process, love clothes, care about the shoot. Though my celebrity interaction happens when I work on editorial shoots; I don't dress celebrities.
BBJ: What are your top 3 beauty products?
LG: First is definitely perfume. To leave home without it is such a drag! It lasts all day, so I don't carry it on me. My scent is top secret. [Ed. note: It smells slightly Angel-esque, but Lori has confirmed it's not a Thierry Mugler kind of party chez LG. She promised if she ever discloses it that I'm on a need-to-know basis.] Regarding makeup, lately I've taken to wearing a bit more. It's so interesting because all the top people in fashion don't wear much makeup. We're working. We're on location, we're traveling. We're down and dirty, but no one thinks we are. That said, lipstick is necessary. And thanks to my mom, blush has become an important part of my regime.


BBJ: What's most rewarding about your career?
LG: Going into new places in my career over the years is what I love most. Starting with editorial and photography and really learning that process. Hearing great feedback and stepping outside of this elitist world of fashion. Feeling like you're a part of the process. That's what I love.

BBJ: What is the easiest way to update your 2010 (for the nonfashion savvy)?
LG: Really take the time to find a great pair of jeans. That'll make everything else work. My favorites are a pair of AG jeans I bought years ago. Thank goodness I buy in bulk. I have sizes 27-30. You need several pairs–When you're working, when you want to be comfortable, when you gain weight, when you go out and you want to lay on your bed to zip them up. Also, get a great jacket you can wear every day. An incredible scarf will update your look. I just splurged on new Chantelle bras and leggings from a favorite shop of mine called Town Shop at 81st and Broadway. It's excellent especially for larger breasted women. It's so fierce in there. You need to experience it. You think you're one size and they'll tell you differently. My new bra is my new accessory for spring!


BBJ: How did your new line for QVC, LOGO Instant Chic come about? 
LG: I love high and low. I was in the right place at the right time. It's everything I love. A line of key pieces. So much of it goes with everything. But really, I trust the organic process. I put it out in the universe that I  was ready to design.
Thanks, Lori, for answering all my burning fashion questions and letting me crash your haircut, which she hails her new Birkin! According to her, it's the best accessory. You know I agree.
Become a fan of Logo Instant Chic on Facebook and don't forget to follow Lori Goldstein on Twitter!
Like this post? Don't miss another one!
Subscribe
via my RSS feed.