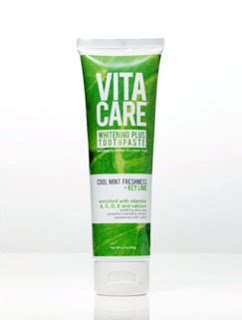 By the by, Muppets are totally hot right now. TheBalm's got an epic makeup palette inspired by the original Muppet Show coming out in October called Cast Your Shadow. OPI's got a Muppet-inspired collection as well to accompany the new Muppet movie slated to come out in November. Personally, I love a Muppet–but none so much as my not-so-secret beauty icon JANICE. I've long been obsessed with her sunny hair hue and tarantular lashes. I mean, she CARRIED Electric Mayhem. But mostly? I love her hilarious way of talking. Like, fer sure. Check out this famous Janice scene from The Great Muppet Caper.
And my new favorite toothpaste Vitacare + Keylime ($5.40) comes with the most Janice-esque copywriting on the back, to my delight. On the back of the product, the ingredients are split into two very Janice categories: For Sure! and No Way! 
Listed under For Sure!:
Cool Mint + Key Lime
Vitamins A, C, D and E
Calcium, Aloe Vera and Cranberry Extract
Helps promote healthy gums
Helps wash away bacteria
Helps fight bad breath
Under No Way!:
No Fluoride, Alcohol
No Parabens, Phthalates
No Petrochemicals, SLS, Sulfates
No artificial colors, flavors
No artifical sweeteners
No animal testing
I love that this odd marriage of lime and mint really leaves my mouth feeling clean and fresh, a rarity when I stray from straight-up mint. Plus, it dresses up my bathroom counter nicely. It also comes in Acai and Pomegranate, if it's that kind of party for you. 
It's a teeth-cleaning experience (though not a Dr. Teeth cleaning experience) even Stadler and Waldorf couldn't criticize. Get involved
here
, okee? And tell me: Do you love a fancy toothpaste as much as I do?
Like this post? Don't miss another one! Subscribe via my RSS feed.