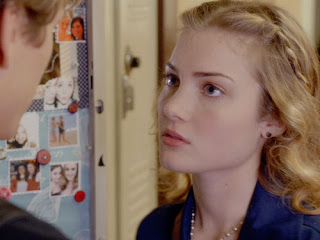 It's been a while since I've done a good makeup artist interview, right dollfaces?
Some of my favorites from the BBJ archives are my Q/A seshes with Mad Men makeup artist Lara Horochowski, True Blood's Brigette Ellis and one of my faves, Lost Makeup Department Head Emily Katz. Emily and I have kept in touch over the years (she's FAM, after all) and now, she's the Makeup Department Head for The Nine Lives of Chloe King on ABC Family. I caught up with Emily to find out her favorite products of late, some purrrfect tips and the scoop on the main character's (played by Skyler Samuels) cosmetic concepts on-screen. Read on…

Beauty Blogging Junkie: How did you get involved with The Nine Lives Of Chloe King? 
Emily Katz: I started the show working on the pilot in November 2010. I was intrigued by the premise of the show…the ancient race of the Mai, the cat like people that Chloe is descended from and a part of.
I strongly connected with Skyler Samuels upon meeting. She is an absolute delight.
When I was hired, I was also introduced to the claws! (We've since refined them from pilot to series-big kudos to our Special Effects man, Ed French). I immediately became enamoured with the show-and it continues to be well written and directed.
BBJ: What's your makeup approach for this show? How does it vary from LOST's? 
EK: We knew straightaway that the freshest cleanest makeup approach was the direction we wanted. From my experience on
LOST
doing 'no makeup makeup', the executive producer and director wanted to ensure the actors looked as truly fresh-faced as possible. We also want to create leading edge fashion-forward, yet very wearable makeup looks for the characters (girls and women). We also have character characters so keep watching to see what I mean about that! I find this extraordinarily exciting because we can move in so many creative directions! I just love the show.
BBJ: What inspires you?
EK: I am continually inspired by the fresh visioning embodied in teenage wisdom, by the beauty of colors and the juxtaposition of color with color that creates a feel, a mood, a look. I also love nature, and get some great ideas from extreme close up photos of flowers and insects.
BBJ: Chloe looks epically gorge on the show. I'd posit that her makeup is the cosmetic equivalent of the hair on Pretty Little Liars (and that's a bold claim). 'Fess up: What products are you using on her?
EK: On Skyler Samuels, I use:
Cargo One Base, used sparingly where needed,
Cargo Lash Activator mascara
Lancome and Stila eyeshadows (I use a wet Lancome shadows to use as liner) in variety of colors!
Benefit She-lac to seal
Benefit Benetint on lips ( both tint stain and/ or glosspot lip )
Fusion cheek color in Haute
YSL touche éclat concealors
Chanel pressed powder
Loose powder: Plus One Beauty: Finish (my friend Casi Morris makes it and it is unreal, so superior to ANY loose powder.)
On the rest of the actresses on the show we use the L'Oreal Paris True Match foundations, Jan Marini tinted and clear sunscreens. Dermalogica, Jan Marini, and Cetaphil are used as primary skincare lines. Specifically, we're using Plus One Beauty loose powder in Finale. It is not a talc based powder, nor is it solely superfinely milled silicon. It is the brainchild of my friend and uber cosmetic development genius Casi Morris. We love this on the show! It is non comedogenic, not visible, no buildup and has hyaluronic acid. It's crazy fabulous.
I'm also into the Clinique Chubby Stick Moisturizing Lip Colour Balm, Estee Lauder's Tom Pecheaux-created shadow kit in Wild Violet–the gorgeous purple in the center of the palette is exquisite as an eyeliner wetted down! Always, always use Benefit's SheLac to seal mascara and liner, which is indispensable for all the stunt and water work that Skyler is involved with.
We use lots of Jan Marini's sunscreen–regular and tinted. I use the Sunkissed Sand tint as my own base.
Stila's eyeshadows (currently Kitten and shadow cream-don't even know if they still make it-in honey) among other shadows and Stila convertible color creams as well.
For the other actors we also use MAC blot powders, YSL lip sheer. (Also Touche Eclat, as ever…)
And loads more! I love new products, and am always open to discovering what's new and brilliant.
BBJ: What are some of your latest makeup tips?
EK: I keep discovering/ rediscovering :the beauty of less is more with foundations, and really dig pushing the envelope with as little as possible to achieve flawless results (in my world flawless skin is the optimal outcome!) So start with less, and build up, rather than a general overlay. It may take some practice to "get it" and so well worth it!
I still use blot papers rather than continual powdering, something that served well on LOST in Hawaii, and I find it a useful trick in L.A as well. We shoot in HD, but with a newer generation camera called Alexa, it's much more filmic than previous generation HD cameras. So I find we no longer need the heavier coverages that were initially so necessary in HD. My first Alexa show was the Hail Mary pilot, this March, doing the lovely Minnie Driver's makeup. I discovered we could go with a light filmic hand on the makeups and they looked beautiful.
Another tip: when lining eyes keep the lid stretched open easily by keeping your head tilted up, but so you can see down looking into a mirror-eyes open, lids appearing semiclosed-you can see what you're doing and line- no squiggly lines!
Thanks, Emily, for giving us the scoop!
Like this post? Don't miss another one! Subscribe via my RSS feed.