Official Mascara Correspondent Ashleigh reviews Benefit They're Real Mascara ($22), out July or you can take advantage of a special preview sale if you live in one of these select cities. Without further ado, Ashley's review!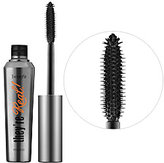 Okay ladies, hold onto your hats! This newest addition to the Benefit mascara arsenal is amazing! Its small rubber brush with a spiky rounded tip provides the best lash coverage I've encountered in a long time.
 The formula itself it super creamy and provides a lot of play time to get to every last lash. One coat provided tons of pigment, major density at the roots and soft tapered lash tips. The funky spiky tip of the brush made it so I could get to all the baby hairs at the inner and outer corners of my eye with ease. I could've stopped at one coat, but pushed it to two for the sake of drama!
 You definitely should only concentrate the second coat at the roots; two coats at the tips made my lashes look a little heavy and stubby.
 With my midday touch-up, the added pigment did more harm than good. But my lashes still looked amazing, so an afternoon touch-up is moot! You absolutely need eye makeup remover to get this puppy off at the end of the day. But a little extra effort at the end of the night is totally worth it for the fantasta-lashes you'll get.
 My boyfriend even asked, "Are they real?"
The Benefit They're Real Mascara will be available on benefitcosmetics.com and sephora.com on July 1.
Like this post? Don't miss another one! Subscribe via my RSS feed.