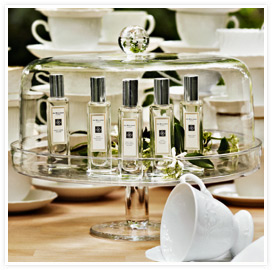 When I wear Jo Malone, strangers stop me and ask what I'm wearing. It doesn't happen with many other brands. And good old Jo has outdone herself this time with her latest suite of tea-themed fragrances. Jo Malone Tea Fragrance Blends include (at $55 each):



Assam and Grapefruit Cologne invigorating and upbeat with grapefruit, assam tea, patchouli, cardamom and almond.
Sweet Milk Cologne with a milk accord of star anise, almond and vanilla.
Earl Grey and Cucumber Cologne a playful twist on the British tradition of high tea, with bergamot, cucumber, beeswax, vanilla and musk.
Sweet Lemon Cologne with pineapple, peach and cypress.
Fresh Mint Leaf Cologne "refreshing", with mint, basil, maté, cedar and musk.

The last three are my favorite of the collection, but all of them are refreshingly civilized, light and perfect for spring into summer. When I watched the royal wedding (P.S. I wound up watching it ALL weekend in Philadelphia with Carol–it's her favorite thing) on Friday, guess who donned a hat (I only WISH I had a fascinator), drank tea and rocked quintessentially British Sweet Lemon scent? I did, that's who. Layer them or where them on their own–whatever your cup of tea.
Where can I buy a sequined jacket as cool as Mick's? Riddle me THAT, BBJ readers.


The Jo Malone Tea Fragrance Blends are available at jomalone.com.


Like this post? Don't miss another one! Subscribe via my RSS feed.