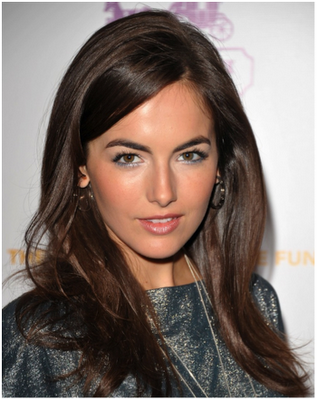 Doesn't Camilla Belle look radiantly impeccable at the Coach charity cocktail party/shopping event benefitting the Children's Defense Fund last week? Celebrity makeup artist Brett Freedman worked with the beautiful actress, playing up her lashes to match the flirt factor of her silver Victoria Beckham cocktail dress. Here's the inside scoop, straight from Brett:
FACE
Base: Make Up Forever HD. Love the velvety texture of this foundation. I swept a touch down her neck too for the most even, flawless finish.
Concealer: Cle de Peau in Beige.
Powder: Shu Uemura loose powder. I used this sheer finish powder to set the makeup a touch. I planned to use bronzing powder to warm up the skin so this was used to make sure the bronzer didn't "grab" on the skin.
Bronzer: Guerlain. Love this bronzing powder's very fleshy tan look. Low on the sparkle so it catches light but doesn't make the face look too shiny or dewy. Important for the cameras!
CHEEKS
Blush: NARS Super Orgasm powder. I wanted a warm, apricot-y tone and this classic always delivers. I swept on the apples of Camilla's cheeks and upward toward her temples. The golden shimmer gives cheeks a dewy look radiance.
EYES
Brows: Vanitymark Ultra-Brow Powder in Dark Choco. I was feeling inspired by Liz Taylor, so I gave Camilla's brows a very defined, crisp finish.
Eye shadows: I used only three shadows on Camilla's eyes. You couldn't see the full effect until she blinked but I did the outer corners of her lids in a super vivid blue – cute!
Lid/tear duct: MAC Idol Eyes: I used this shimmery pewter shade on lid, tear duct and bottom lash line.
Outer corner: MAC Electric Eel. Super vivid. I used a tiny bit on her outer corner and blended toward the middle of the lid. I then swept a touch on the bottom outer corner of the lash line. I like that the lashes are the center of focus, but when she looks down or blinks there's a flash of indigo!
Highlighter: MAC Nylon. I used a very little amount and brightened her brow bone with this champagne shimmer.
Mascara: Fresh Supernova. This mascara is fast becoming a fave. Super black shade and the ultimate in lash thickening. If you haven't tried it, definitely grab some. You'll love it! I curled Camilla's lashes then she patiently sat through a whopping six coats of mascara on her top and bottom lashes! I also mixed in a few individual lashes on the outer corners for the ultimate tangle. I used a few directional sweeps of mascara to 'marry' her lashes with the faux ones and gave a quick pump with the Shu curler after all was dry to align and plump all the lashes up a touch.
LIPS
Lips: Elizabeth Arden Honey Pink Pearl. I wanted something with a touch of warm pink and with an opal finish to mimic the glow on the cheeks.
BODY
Bronzer and Shimmer: To give Camilla's body a soft, warm lift of color I used LORAC's TANtalizer lotion and then iced it with a little extra shimmer from Vanitymark's Shimmerskin spray.
Like this post? Don't miss another one! Subscribe via my RSS feed.