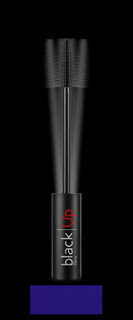 Official Mascara Correspondent Ashleigh Ciucci shares her expert review of Black Up Paris Vibrating Lengthening Mascara. She's a fan, friends, even though one of the speeds is "ticklish." In the words of Ash:
While I tend to not be a fan of a mascara with bells and whistles, I'm happy to report that I'm loving this vibrating mascara. While most vibrating mascaras are one speed, this baby has three speeds that genuinely offer a different result. With one push of the button, the lowest speed gave me long separated lashes. Because I was able to get so close to the root (due to the subtle vibration), but blonde lashes were completely coated in the black pigment. I was careful when going for multiple coats because the product dries relatively quickly. I concentrated on the roots for a little more depth and left the tips alone.
While the slight stiffness of my lashes didn't bother me all that much, I didn't bother with mid-afternoon touch-ups (on any speed.) The second speed (two clicks!) gives TONS of definition and again gets super close to the lashline. Because of the intensified speed, I was able to apply a healthy second coat without it clumping. It brought a second layer pigment all the way up to tips which gave the illusion of super length! The third speed was a bit ticklish and put down even more pigment to work with. I had to work a little bit more at this speed to avoid clump-age but the tapered rubber brush is what makes it usable. I was totally surprised by how much I loved this mascara.
 You'll need to use a good eyemakeup remover but you should totally buy this one!
Like this post? Don't miss another one! Subscribe via my RSS feed.