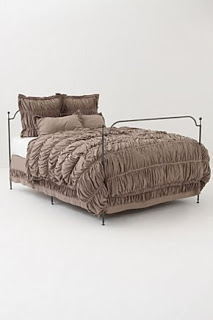 Joyce Kilmer once said, I think that I will never see a poem lovely as a tree. I, in turn, thought that I would never see a duvet lovely as my Anthropologie Cirrus set.
 Let me tell you a little story about it. I stared at it online every day for about two years–2006-2008, waiting for it to go on sale. It has yet to. I couldn't stop thinking of it, so I invested the $250 for JUST the duvet (not even the shams). I had to throw that shiz on my credit card because mama did NOT have cash. You know?
I cherished and adored that duvet for YEARS never switching it up because I was so damn obsessed. People come over and DIE over my duvet. And I don't blame them. It rocks the home decor FUNK. It is, in the select words of Diana Vreeland, the most gorgeous thing since the gondola. Well, imagine how I felt to discover that Anthropologie has ensnared me once AGAIN with a new and improved version on my current bedding relationship. They've gone and created the EXACT SAME situation, but out of soft, gorgeous JERSEY and kept it in the cloud theme by calling it Nimbus. And it's in a cocoa color (my current is grey).
WTF, Anthro? My head is about to effing explode. I'm so stressed out right now!
The Anthropologie Nimbus bedding set is available on anthropologie.com.
Like this post? Don't miss another one! Subscribe via my RSS feed.