Backstage beauty at Carolina Herrera was a '90s-esque elegant, sophisticated look with vampy shades that reminded me of the effervescent cassis color of a kir royale. The look focused on a deep plum lip and a complicated, sleek updo. Find out how to recreate this look!
Hair: Said Orlando Pita for Moroccanoil, "The look is boyish in the front, with a very clean updo in the back." Pita remarked that the hairstyle came about because of "the very wintery necklines of the collection." An updo was in order to show them off, but he wanted to steer clear of the typical buns and French twists. To create the look, Pita first applied Moroccanoil Hydrating Styling Creme, then blew it dry straight. He created a side-part, made two sections on the sides into two separate ponytails before bringing them to the back. Next, Pita took everything hanging in the back and tucked it into the ponytail. Sort of like a topsytail but you know, NOT, because this is Orlando Pita, not a made for TV product infomercial. Pita describes the effect as an envelope fold. He then secured the look with 10-12 bobby pins and lots of Moroccanoil Luminous Hairspray.


Makeup: Diane Kendal for MAC Cosmetics created a fresh face with natural skin using MAC Cosmetics Face and Body Foundation and Studio Careblend Pressed Powder. Cheeks were flushed slightly with Angel Blush. She used a small amount of MAC Black Creme Liner on the eye "very close to the lashes" with a slight kick at the outer corner, followed by "a little clear gloss on the eye" before finishing the look with a lipstain. The lashes were curled before Kendall applied a bit of MAC Haute and Naughty Mascara just on the outer corner of the top lashes. Prince Noir Lipstick was applied "first with a lip brush, then patted to a stain using tissues to blot," explained Kendall.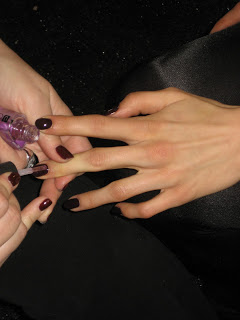 Nails: CND produced a crown jewel manicure for Carolina Herrera's Fall 2011 collection. Nail technician Wanda Ruiz said that "It's all about jewel tones for fall 2011." She painted a deep, vampy plum onto the talons of the Carolina Hererra models, drawing inspiration from French aristocrats. Said Ruiz, "we wanted to take the rich matte fall textures of the collection and contrast them with a high-gloss manicure." Ruiz used CND polish in Dark Ruby, a vibrant creme shade, with a generous coat of super shine to give it an expensive shine. Said Ruiz, "We ensured a meticulous application on a short, semi-square nail."
Like this post? Don't miss another one! Subscribe via my RSS feed.