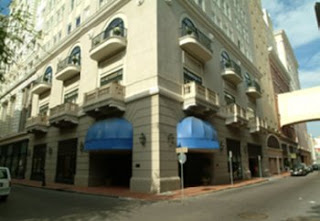 When I found out the hotel, The Iberville Suites, at which I'd be staying in New Orleans' famous French Quarter was Ritz-adjacent, I was kind of OH about it. I was all, I'm staying at Not The Ritz. Snotty, I know. But I was more than pleasantly surprised. I spent the past weekend laissez-ing les bons temps rouler attending the 69th Annual American Academy of Dermatology Conference (the whole plane from La Guardia was abuzz about hyaluronic acid–these were my PEOPLE) courtesy of the kind folks at Proactiv Solution.
Some highlights of this venue? The hotel is beautifully decorated with European-style furniture and accents. You can enjoy unlimited champagne during tea time at the Ritz Carlton hotel lounge, which is attached to The Iberville Suites. Our glamazing waiter Mark hooked us up with unlimited bottles for the price of ONE. Southern hospitality indeed. Also worth trying: the crawfish quesadilla and the brie risotto balls. My one gripe? The long, winding, connecting The Shining-style halls of the hotel challenged my lack of directions to the point where even getting to the elevator to leave the premises starkly showcased my secret handicap.
Let's discuss the fabulous city of New Orleans! Storytime: I've long been obsessed with it and am convinced I was (or perhaps still am) supposed to live there. In 1993 I saw The Pelican Brief and decided I had to go to Tulane (and law school, though not necessarily law school AT Tulane, as Julia Roberts' character did). This situation, to me in the '90s and still, really, requires nary a legal proof to prove. We know I'm a Francophile. We know I care about hair in a way only southerners can appreciate, despite the fact I was born in the first city above the Mason-Dixon. We know I loathe being cold. But alas, Carol gave me a 6-hour by car radius re: distance I could apply to schools and I wasn't ALLOWED to apply to Tulane; thus why I'm still bitter about it to this day. I ended up at Boston University, and while I wouldn't trade the experience, the blast I had in New Orleans drinking hurricanes, eating grits and busting moves on the streets where music IS the culture gave me pause. Seriously. It's been a long time since I was impressed with an American city, but I'm charmed by the fact that New Orleans residents seem to have a song in their heads which must be expressed–many times via MacGyver-style instruments, like buckets and spoons. You hear jazz playing in the airport and on the street. Even in the very cultured cities in which I've lived, street/subway music doesn't yield the same feeling. Perhaps it's the supernatural lore of the south that permeates the day-to-day. But I love it.
Have you been to New Orleans? SHARE your thoughts in the comments!
Like this post? Don't miss another one! Subscribe via my RSS feed.