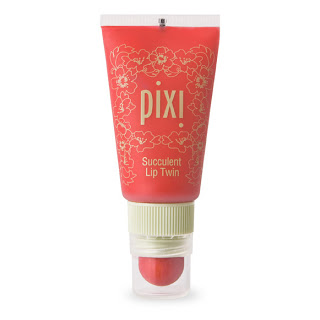 Gucci Westman (or as Andrea Lavinthal and I like to call her, G) talked about a coral-red for spring in February 2009. Guess who's still thinking about it? MOI. Guess who received, quite serendipitously, the perfect spring red balm/gloss in the mail this week? MOI. It's Pixi Succulent Lip Twin in Poppy (which always reminds me of Sark's Succulent Wild Woman every time I reach for it in my puffy coat pocket, where it has established residency).
The double-duty beauty product boasts a lipstick-like applicator which removes to reveal a liquid-consistency balm which hydrates my flake-tastic lips like a GD sweet dream (not a beautiful nightmare).The instructions say you can sweep the lipstick-like part on your cheeks for a coordinated flush, but I actually prefer to flush using the balm for extra moisture during what can only be described as the comically brutal winter we're undergoing. I know, I'm WILD, in the sage words of Frances (Baby) Houseman!
I'm taking my Lip Twin to New Orleans with me when I journey there this weekend to hit up a derm conference. Ironically, I'll also be taking my new ACNE, but that, friends, is another story for another time. (Like, probably later this week, relax! I'll Share Horowitz soon enough).
The Pixi Succulent Lip Twin is available for $18 at Target.com.
Like this post? Don't miss another one! Subscribe via my RSS feed.