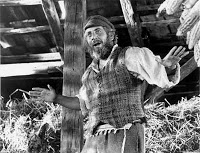 Fictionary is a column showcasing beauty-related words that don't exist, but should.
There's a genre of beauty items that I like to call "Tevye Products," in honor of their efficiency in a single area juxtaposed by a wild deficiency in another area. These items tend to be cult classics for some people but anathema to others. I love them because they're the spirit of beauty blogging and the reason user-generated content is so freaking necessary in the world where we live as people.
Let's start with WHY I call them Tevye Products: Because in their reviews, I'm all, "On the one hand…" and "But on the other.." just as Tevye famously did throughout the cinematic masterpiece that is Fiddler on the Roof (happy Rosh Hashana, my Jewish readers, BT dubs). A new product that embodies these feelings of uncertainty? Garnier's new Blowout Perfector, the brand's new two-step at-home smoothing treatment.
On the one hand, I wanted to love this. And I won't say I hated it. It did sleekify my mane to the fullest leaving it perfectly straight and I could blow-dry with little legwork to get it smooth. It also did last a full seven shampoos. Lastly, it made my hair feel a bit more ample and thick, which I love.
On the other hand, I must confess that I'm not so much a fan of pokey-straight locks. I like bend, movement. I have a Platonic ideal in my head of perfectly bouncy, swingy hair that I attribute to Judy Blume's description of Are You There God? It's Me, Margaret's menstruation mime Nancy. I think about that hair all the time. I'd like to write FAN FICTION about that hair. And in my vision of Nance's (we're famil enough that I refer to her as Nance) magical mane, it's a bit bendy. Not wavy, but definitely full, with twirly ends. And I have to say, this dried my hair out a bit and rendered it completely straight at the ends with no hope of twirl for several washes. It's the kind of thing that super-stick straight haired gals would love–I call it Emily The Strange hair. But alas, it's not for me. The Smooth It Serum smells pretty rank and when used instead of a conditioner made my hair super-tangled. That said? Part two of the two-step process, the Perfect-It Cream is a dream. It detangled amazingly and made my hair uber-shiny. I wish they sold it separately for regular use.
It seems I may still require Yente's services to achieve an at-home smoothing treatment that still yields bounce. But if you love clean lines when it comes to hair, Garnier Blowout Perfector may be great for you.
Garnier Blowout Perfector retails for $10 at ulta.com.
Like this post? Don't miss another one! Subscribe via my RSS feed.