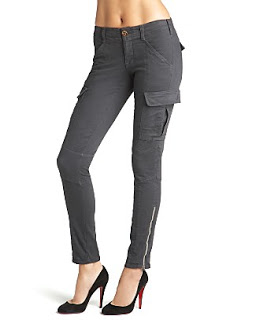 Last week, I'd tweeted about how much I love Shark Week,which starts on August 1st. That night, a PR rep for the Discovery Channel emailed me asking for my address saying he'd seen my tweet and wanted to send me a press package. WELL. The package arrived this week and it contains a glamazing super-soft T-shirt emblazoned with a shark logo, after which it says "Week" (do you love it?) AND an advanced screening copy of all the Shark Week footage. So it is essentially Shark Week come early at BBJ. Jawesome!
Want to know what else is jawesome and even shark-related? My new J Brand "Houlihan" Skinny Cargo Pants in Sharkskin. Are you involved? Let's discuss: Carol read me the an entire article devoted to them (as she tends to do, over the phone) written by the fabulous Elizabeth Wellington for The Philadelphia Inquirer. I'd been hearing about them everywhere, but hearing Elizabeth's glowing review SOLD me. Rarely one to pay full retail, I made an exception. I also made an exception to my participation in ANYTHING Mash-related–Houlihans are named after one of the show's characters. My brother and I have this irrational aversion to the program, RUNNING to the TV to turn it off when we hear that wrist-slitting inducing theme song. We refuse to A) have conversations about that show B) learn anything about it and C) see a single episode. Now, unfortunately, I know the nickname of one of its players, but in the name of fashion, I'm willing to deal.
They fit FABULOUSLY thanks to their enchanting Japanese twill stretch material. The side pockets magically REDUCE bulk, a feat unheard of. And they make your tush look positively epic–also the work of a warlock, as flap pockets usually make a derriere look ample. I suggest you buy your real size, though it may be snug at first because these babies stretch a lot. They come in black, olive, sharkskin, vintage navy and even WHITE at Henry Lehr. I'm deeply considering investing in the latter.
J Brand "Houlihan" Skinny Cargo Pants cost the earth ($230) but are so worth it. You may have trouble tracking down the sharkskin shade, so I suggest NYC residents hit up my secret J Brand boutique (not so secret anymore), Henry Lehr in SoHo, which I discovered whilst undergoing my Brazilian Blow-out at Maria Bonita Spa across the street. That's where I scored mine.
You're welcome.
P to the S: I just found out Prive is having a sale on them in Vintage Sahara (a khaki-ish color) for only $140!
Like this post? Don't miss another one! Subscribe via my RSS feed.