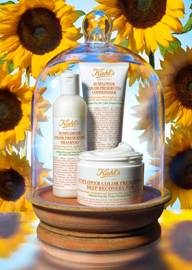 Breaking news on this Bastille Day, dolls. I'm having the best hair I've had in a WHILE thanks to last week's cut with Matthew, my SFB (super fucking blonde) highlights with Jason this past Saturday, and my new shampoo/condish OBSESH: Kiehl's newest hair care, Sunflower Color Preserving Shampoo, Conditioner, and Deep Recovery Pak. The three products launch this month at Kiehl's stores and Kiehls.com.
The paraben-free, sulfate-free, and silicone-free formula uses Sunflower Seed Oil to preserve hair color, and since Sunflower Seed Oil has a natural UV-protective filter, the line's formulas are ideal for protecting hair from damaging summer rays. You're KIDDING yourself if you think I'm going to let a single sulfate anywhere near my Jason-treated locks. For realz. Even better than my glossy, yet super-soft (but not so soft that it won't hold a style) results are the products' intoxicating scent, courtesy of its Apricot Kernel Oil infusion. More deets on the collection:
Sunflower Color Preserving Shampoo ($18)
Sunflower Color Preserving Conditioner ($19)
Sunflower Color Preserving Deep Recovery Pak ($25) This one's actually my favorite. You can feel its richness in-shower.

With my shampoo and deep recovery pak combo, I have to TEAR myself away from my mirror to gaze at my epic Reese Witherspoon levels of blonde shininess. No, it's not a myth. You MUST try it out, stat.
Like this post? Don't miss another one!
Subscribe
via my RSS feed.