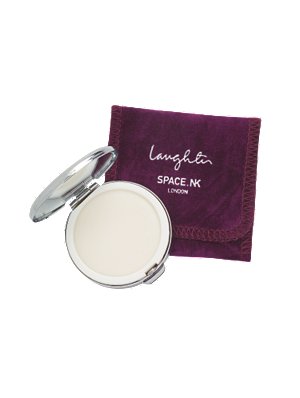 Girls, I'm going to let you in on a little beauty industry secret. When it comes to commonly-used phrases beauty editors hear over and over, "You can just put it in your purse!" is at the TOP of the list. It's basically… a bunny eating a carrot. It's that cliche. Portability IS a bonus, obviously. There are many things that really are nice, light, and well-packaged. But sometimes we hear it about full-sized, regular stuff. I always think to myself that if I were really going to put everything in my purse that someone tells me I should… I'd be carrying a Samsonite around.
But something that REALLY IS perfect for toting in your tiny prom clutch?
Space NK's Laughter Solid Perfume Compact
($45). The compact is sleek, gorge and features a stealth mirror. I KNOW. How could you not bring it to the prom? And the scent itself is light, citrusy and airy. A solid perfume won't leak all over your bag (nor your date) so you can focus on other things. And, it's alchol-free, but I promise it's not lame. Lastly, you'll adore its plum plum totes fance velvet bag it lives in. Love, love, love.
Like this post? Don't miss another one!
Subscribe
via my RSS feed.