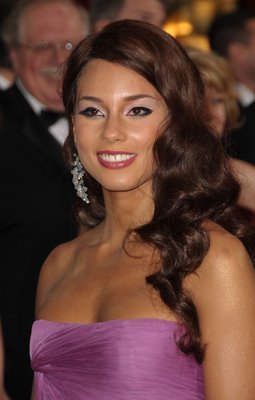 For Alicia Keys, celebrity makeup artist Ashunta Sheriff was inspired by
Veronica Lake, Lena Horne and "the women in Hollywood in the '40s and
'50s." Alicia's was one of my fave beauty looks of the night. Here's what Ashunta used:
Eyes: Dior 5-Color Eyeshadow in Tropical Mist, Dior Crayon Eyeliner in
Trinidad Black, Dior Brow Pencil and DiorShow Brow in Shiny Blonde
Lips: Mary Kay lip pencil in Raspberry and Mary Kay Fleur De Polynesie
lipstick which is a gorgeous pink.
Cheeks: DiorBlish in Fruit de Mar
Skin: Skin was refreshed with Dior Refreshing
Cleansing Water. It also locks makeup in and makes it last.