Here's a list of all you need to glow this holiday season! Use all four and pity the fool (who'll surely be totes eclipsed) next to you at the party.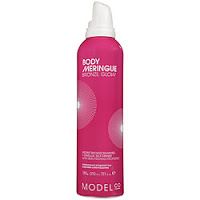 MODELCO Body Meringue Body Glow
($38) It sounds like a fantasy: a body whip that
shimmers, bronzes, and tones
all at the same time. Believe it, dolls. The mousse-like consistency is easier to apply than ModelCO Tan in a Can, and it yields a softer copper color that makes me look like I've spent a week in the Caribbean. It's a bronzer more than a self-tanner; it washes off in the shower. But it's great for an instant believable non-streaky glow thanks to its tinted formula so you can see where you've applied it. Available at
Sephora.com
.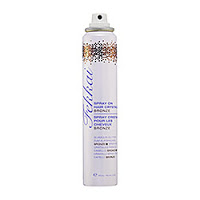 Frederic Fekkai SprayOn Hair Crystals
($19)
I LOVE THIS STUFF. It just exudes "limited edition" with its festive packaging. It also functions like a dream, layering a glossy veil of glittery flecks to the hair while the added Panthenol protects it. I have it in Champagne and Copper (my hair is a mixture of golden and dark/dirty blonde) and I do a little mixed cocktail of both for holiday parties. Available at
Sephora.com
.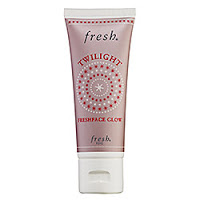 Fresh Twilight Freshface Glow Primer ($36)
Obviously, I am enamored with this luminizing primer because it is named Twilight. It's as good for skin as it is for your complexion as it's enriched with antioxidant-rich Vitamins A, C, and E. I love how it evens skintone and infuses it with light-reflecting gorgeness. Available at Sephora.com
.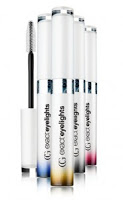 Cover Girl Exact Eyelights Eye-Brightening Mascara ($7)
Its tinted formula mixed with light-reflecting metallics lend a little lash "je ne sais quoi." I find it's a bit light on its own, but a tad brushed onto lash tips after applying a regular mascara gives my cils a shimmery holiday glow. Just be sure not to Cologne (of Stylista fame) out and apply too much, as it is your second coat. I have it in Black Sapphire (for blue eyes) and Black Ruby (for green eyes). Just as with the Fekkai SprayOn Hair Crystals, I need two colors because my eyes are a green-blue hybrid. And because fitting in one "color box" is boring, n'est-ce pas?