Happy Friday, gals!
As a tribute one of my FAVE movie characters of all time, hair chameleon Sally Albright, I've decided to put together some hair tips that I ALWAYS incorporate into my routine. They're simple, but oh-so-necessary. BT dubs, remember this scene from When Harry Met Sally? It's my fave.
Meg Ryan's hair is, admittedly, 80s-big and somewhat lackluster, but that was en vogue in those days. Though shine wasn't in, you can still recognize the health of that mane. And also? We simply must laud her ability to rock at least four different textures throughout the tenure of the film. Here's what I recommend for Sally Hair.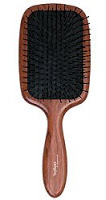 Right before showering, brush through your hair with a large paddle brush to distribute the oils along the hair shaft to your ends. I love this wooden one ($32) from Sephora.
Unless you have wildly greasy hair, don't wash two days in a row. I'd recommend going as long as you can in between with the help of dry shampoos and volumizing agents. Even if you don't have fine hair, volumizers extend the life of a blowout by at LEAST 24 hours. Don't let a stylist blow you out without spritzing one on your locks first. I'm loving Keratin Amino Acids-infused Phyto Phytovolume Actif ($28). I spray a HUGE amount of it from root to tip and love its ability to coat the hair in order to create a non-sticky, pliably amplified texture. Its subtle, vaguely powdery scent is so uniquely French. Je l'adore.
Have a great weekend!