It's NOT coming together today, friends. I had an impromptu BURSEday party (means birthday – stems from a hilarious story my friend Stephanie told about a woman with a thick accent and a smoker's voice thinking she should sing a solo of the birthday song because she's such a phenom singer in her opinion – and THAT is how she pronounces "birthday.") last night at Highbar and am currently enduring a champangover. So without further ado, here's what I'm loving this week:
Orly Top 2 Bottom ($7) is a basecoat and topcoat in one. I'm not usually a fan of 2-in-1s (Pert Plus comes to mind – ICK), but this one delivers. I like to keep it at work for use with my Sally Hansen Color Quick Fast Dry Nail Color Pen. It glosses up my mani in seconds. I also love it for sealing on color to extend my 'cure a few days.
FitFlops ($60)

LOVE these! I'd been wanting to try the MBT sandals, but it's simply against my RELIGE to spend a cool $244 on casual sandals that aren't even cute. Sneakers? Fine. FitFlops destabilize your feet as you walk to help tone thighs, calves, and butts. Like MBTs, they recreate the gait of barefoot walking with a built-in micro-wobbleboard workout-enhancing effect. And I find the Electra ones (pictured) supercute. A perfect MBT summer substitute.
Susan Posnick ColorEyeDefine ($26) is a flat-ended eye pencil on one side and a self-dispensing shadow on the other. Smokey Quartz/Rose Quartz is a hazy pinky-plum. It glides on easily and lasts a dang long time.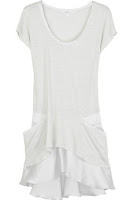 Vanessa Bruno's Ruffle Hem T shirt Dress caught my eye in this morning's Who What Wear Daily and I am deeply obsessed. It's $497, so it won't be incorporated into my lifestyle anytime soon, but as WWWD says, it's the epitome of easy chic. I envision it with gold flat sandals, a tan leather purse, and a sick tan.
Lastly, this graph has nothing to do with beauty or fashion, but it's on the phenom list because it represents EXACTLY how I feel about errors in punctuation in the EXACT order of how strongly I feel. My work husband Michael forwarded it to me today with the subject line, "Helpful Chart for those Edited by Amber …" I just about died laughing.
Happy Friday, dolls! And a happy birthday to the Olsen twins and to my phenom father! He's the smartest, funniest, best man I know. Mwah.