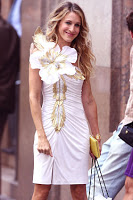 Oh, girls. I just bought not one, but TWO tickets (for myself) to the Sex and the City movie on two separate nights on Fandango. And I'm most likely going to see it a third time with my friends Lauren, Jill and Dana (my own little SATC-like quartet) because the three of them are away in Poland and Prague until June 2nd. Thanks to a suggestion by Julia, I'm seeing it with my roommate Carrie on Thursday at midnight (technically Friday) and then again on Friday night with my friends Erin, Tiffany and Stephanie. I mean, that's how I roll. It's been getting mediocre reviews, but you know what? To quote Carrie (my roomie), "I'm gonna like it anyway."
Back to the fashion biz at hand. Check out the Versace, Nina Ricci, David Yurman, Balenciaga, YSL and Manolo Blahnik in which Sarah Jessica Parker decked herself for the June Vogue photo shoot — a fantasy New York City honeymoon for Parker's Sex and the City character, Carrie Bradshaw, and Mr. Big. Find out exactly what dresses, shoes and accessories she's wearing and buy it on Neiman Marcus online by watching the exclusive behind-the-scenes video on Vogue.TV here.
P.S. I am DEFINITELY on Team Big. I was never feeling the Aidan vibe, although I think he was a lovely man who was simply not right for Carrie. What's your feeling on the Mr. Big situ? Vote and tell me!

Photo credit: nymag.com
Click here to enter Total Beauty's contest to win a Saturn Vue Hybrid.