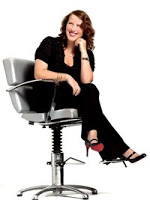 Yesterday, I (along with some other beauty bloggers) had the opportunity to sit and have lunch with celebrity makeup artist Molly Stern, who's now partnered with Cover Girl. Her celebrity clients have included Reese Witherspoon, Jennifer Connelly, Jacinda Barrett, Amy Adams, and Maggie Gyllenhaal. Quite the roster, n'est-ce pas? The vibrant Molly (who looks more like a college student than like her real age of 36) talked about her background and gave us the deets on the new Cover Girl products. Molly is from Los Angeles and got her first beauty job at age 16 at Shu Uemura at her local mall. Molly's theory is less is more, so rare for makeup artists. She can flush a cheek like no other. As she was responsible for Reese Witherspoon's Oscar 2007 moment (the purple dress… remember?) I've been keeping tabs on Molly's work on Hollywood's finest at awards shows.
Molly also mentioned that the new CG shadow palettes were not designed with the intention that women should wear all four colors at once. I find that briskly refreshing. As someone who rarely complicates my shadow concept with more than two colors at a time, I appreciate a four color palette that's simply four pretty colors. That there's no pressure to wear TOGETHER. They can all be vibrant and gorge but worn separately on four separate occasions. I was sent home with Tropical Fusion, a quartet that reminds me of a parrot: a bright crayola 8 pack blue, a teal green, a deep peachy coral, and a spring greenish yellow. The texture is surprisingly luxe for a drugstore brand. I love Cover Girl's new easy-for-everyone-to-shop-off-the-shelf numbered system ("If you're a 1 here, you're also a 1 here and here.") And what is more satisfying than someone complimenting your gloss and getting to tell them it's CG? I get the same rush mixing Forever 21 with Prada. I like to keep people on their TOES. You know.

But the crown jewel of my CG swag bag is CoverGirl Wetslicks Amazemint. It's a lip gloss that shines you up, whitens teeth and freshens breath. It pretty much does everything but drive you to the Hamptons. The blue undertones in the gloss instantly make less-than-bleached teeth appear brighter. Cover Girl incorporated Crest™ technology for a minty-in-your-mouth feeling. I have it in Merry Berry (although the one pictured is a different shade) and it's the PERFECT nude gloss.
In fact, it was serendipitous that I received this gloss right after seeing Forgetting Sarah Marshall the night prior because I fell deeply in lurve with her GORGE gloss she wears throughout the entire movie. She also had unbelievably covetable eye makeup. Seriously. That's a whole other post. Did you see the movie, BTW? I laughed so hard I literally cried. I find anything involving puppets absolutely hilarious. What did you think?
Click here to enter Total Beauty's contest to win a Saturn Vue Hybrid.
Photo credit: paperdollmag.com